The Movie

Video Quality

Audio Quality

Supplements
Hellboy Animated are original straight-to-DVD animated films based upon the Hellboy comic books by Mike Mignola. Both films, Sword of Storms and Blood and Iron, received the signature of Mike Mignola and Guillermo del Toro.
Purchase HELLBOY ANIMATED on Ultra HD Blu-ray Today!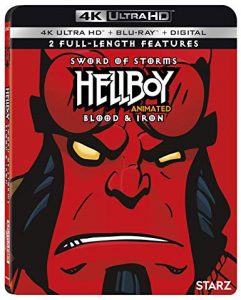 THE MOVIE:
Hellboy Animated comes to Ultra HD Blu-ray just in time to get us all up in a frenzy before the reboot film of the franchise hits theaters. Packed in this UHD release is that of both Sword of Storms and Blood & Iron. All the special features can be found on the UHD disc.
Ron Perlman, who played Hellboy in the live-action films before, also provides the voice of the character in the animated version. Selma Blair and John Hurt reprise their roles from the film of Liz Sherman and Professor Trevor Bruttenholm, respectively. The voice of Abe Sapien is Doug Jones, who played Abe in prosthetic work in the live-action movies but did not provide the voice for the first film – Abe's vocals for that film were played by David Hyde Pierce – However, Doug Jones did voice the character in the second film. Kate Corrigan is voiced by Peri Gilpin.
HELLBOY ANIMATED: SWORD OF STORMS OFFICIAL SYNOPSIS
In the first animated feature from director Tad Stones (Buzz Lightyear of Star Command), a folklore professor becomes unwittingly possessed by the ancient Japanese demons of Thunder and Lightning. But when The Bureau of Paranormal Research & Defense dispatches a team of agents to investigate, a cursed samurai sword sends Hellboy to a supernatural dimension of ghosts, monsters, and feudal mayhem. Now, while pyrokinetic Liz Sherman and fishboy Abe Sapien battle one very pissed-off dragon, a lost and cranky Hellboy must find his way home. Even if he can survive the perilous journey, how much crap does a guy have to put up with from the two most vengeful and ferocious spirits of Japanese legend?
HELLBOY ANIMATED: BLOOD & IRON OFFICIAL SYNOPSIS
When Hellboy, Liz Sherman, and Abe Sapien are assigned to investigate the ghost-infested mansion of a publicity-hound billionaire, they uncover a plot to resurrect a beautiful yet monstrous vampire from Professor Bruttenholm's past. But before they can stop her bloodbath, Hellboy will have to battle harpies, hellhounds, a giant werewolf, and even the ferocious goddess Hecate herself. How much crap does a guy have to take from a Hungarian Blood Countess before he and his surrogate father can avenge the souls of the damned? It's going to take more than just a horde of very pissed-off demons for our heroes to see the light in this animated adventure from creative producers Guillermo Del Toro and Mike Mignola.
VIDEO QUALITY:
Hellboy Animated comes to Ultra HD Blu-ray 4k in 2160p with a 1.78:1 presentation with Dolby Vision. Much like animation from blu-ray disc it tends to always look sharp and crisp. This Hellboy Animated is no different. The sharp thick darks shine clearly in this 4k release. Everything pops very well and just watching this in such quality gets me pretty pumped for the movie due to cheesing about the Hellboy universe in general. You'll have no complaints about video quality in this one.
AUDIO QUALITY:
Hellboy Animated comes to Ultra HD Blu-ray 4k with Dolby Atmos audio and the accompanied blu-ray disc has 5.1 Dolby Digital Audio. Much like the above you won't find any real complaints about the audio no different than the video. The film offers many spots that let the audio shine and even the rears get some good play while the film like most is front heavy with sub woofer action.
SUPPLEMENTS:
4K ULTRA HD SPECIAL FEATURES:
"A New Breed: Creating the New Hellboy" Featurette
"Conquering Hellboy: The Actor's Role" Featurette
"A View from the Top: The "Heads" Sequence" Featurette
"Tales from the Tomb: A Look Inside Blood & Iron" Featurette
"Iron Shoes' with Introduction by Mike Mignola" Featurette
Sword of Storms Audio Commentary Featuring Hellboy Creator Mike Mignola, Supervising Producer-Director Tad Stones, and Director Phil Winstein
Blood & Iron Audio Commentary Featuring Mike Mignola, Tad Stones, and Vic Cook
"Reversal of Fortune, Professor Bloom's Story" Featurette