The Movie

Video Quality

Audio Quality

Supplements
Bumblebee is a 2018 American science fiction action film centered on the Transformers character of the same name. It is the sixth installment of the live-action Transformers film series. It was developed as a spin-off and prequel, and later declared a reboot of the franchise.
Purchase BUMBLEBEE on Ultra HD Blu-ray Today!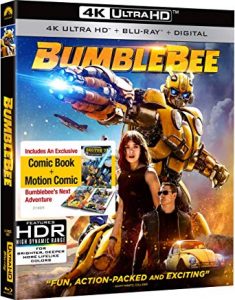 THE MOVIE:
Having lost a vicious war on Cybertron, Optimus Prime has sent Bumblebee to Earth in an effort to reconstitute the Autobot rebellion and prepare for the next stage of their war. Unfortunately, their enemies the Decepticons have tracked Bumblebee to 1987 Earth and damage his memory circuits and voice box. Unable to communicate with Sector 7's Agent Burns (John Cena), Bumblebee becomes an instant target for the military and is forced into hiding. Having hidden in a scrap yard disguised as a broken-down VW Beetle, Bumblebee meets the impulsive Charlie (Hailee Steinfeld) who yearns to redefine her life after her father's recent passing. As Charlie begins to realize that her new car isn't all that it seems, the Decepticons Dropkick (Justin Theroux) and Shatter (Angela Bassett) arrive on Earth and begin their pursuit of Bumblebee. Forced by circumstance to join forces, Charlie and Bee must convince Burns that he's fighting the wrong baddie, all while they attempt to hide Charlie's secret from her parents and nextdoor neighbor Momo (Jorge Lendeborg Jr.).
BUMBLEBEE is everything that Michael Bay's movies weren't: it sports a tremendous heart, as Bee tries to piece together his memory and Charlie struggles to emerge from her father's death. Both are broken and through their losses find a unique and thoroughly entertaining camaraderie. Steinfeld shines as tries to teach Bee the rules of living on Earth which include hiding from other people; that scene revealed the greatest laughter in perhaps the franchise's history, and proves that this is in no way a Michael Bay movie (although his company did produce it). Director Travis Knight has assembled a good cast, none of whom knock it out of the park but do very well in their respective moments. Lendeborg enjoys some great writing courtesy of Christina Hodson who has perfectly painted Charlie as perhaps a nod to her own youth; she gives Charlie a believable sense of self, something Bay tried unsuccessfully to do with his young cast. Charlie's fragility is matched by Bee's loss and it gives the two a meaningful playground to explore. As he adjusts to talking through music, Bee brings to us some of the most iconic songs of the 80s, while Charlie's insistence on playing the moody Smiths results in a hilarious reaction by Bee.
Director Travis Knight has quietly made a name for himself as a more serious animated director, having created KUBO AND THE TWO STRINGS. It seems to have paid off with BUMBLEBEE as he seems to both know exactly what plagued the Bay TF's and how to fix that. For the most part he does, although some of the silliness of Bay has seeped into this story. Cena – who was fantastic in BLOCKERS – frowns too much here and whose growth as a character doesn't go very far. To him, robots in disguise are a threat pure and simple. The sooner they're dead the sooner he can train for a war he'll never win. It's too bad because a smarter Burns would have given the film its final push to become truly great. He's not terrible, but it's definitely a missed opportunity although one that's mostly mitigated.
There's another element to BUMBLEBEE that works here but could face issues down the road: it succeeds because it's largely about one Autobot vs three Decepticons. As this new – and much better universe – expands, the question of how to separate/identify robots by Autobots/Decepticons will be a challenge. We are treated to an epic battle in the film's first few minutes, and there the menagerie of metal is immediately overwhelming. BUMBLEBEE works because it keeps things small, which of course isn't a style this franchise has been good at maintaining.
Movie excerpt taken from our Theatrical Review covered by Matt Cummings.
VIDEO QUALITY:
Coming to Ultra HD Blu-ray BUMBLEBEE arrives with Dolby Vision and getting the remark of Ultra HD Premium as well. (meeting certain standards) The film has plenty of different settings to allow for the video quality to shine in the UHD release. Bumblebee himself goes from super shiny to dirty and decrepit upon his revival from the junk yard. We get to see a great transition just in practically every hue of yellow you can imagine and lots of other normal in the house scenes etc. spread through out. Suburbia has many different aesthetics to offer. BUMBLEBEE looks great on UHD with deep rich blacks and super bright vibrant colors as well. No complaints.
AUDIO QUALITY:
Slammin' onto Ultra HD Blu-ray today is that of BUMBLEBEE which comes with a Dolby Atmos track that is set to impress. It'll rock your home theater, your living room, man cave or wherever it is your watching this movie. It's Transformers and just like all other Transformers the audio is a thrill ride unto itself. Toned down a bit tho with this film vs. your typical Michael BAYHEM.
SUPPLEMENTS:
BONUS FEATURES ON 4K ULTRA HD COMBO, BLU-RAY COMBO & DIGITAL
• Sector 7 Archive
• Agent Burns: Welcome to Sector 7
• Sector 7 Adventures: The Battle at Half Dome (All-New Motion Comic)
• Deleted and Extended Scenes
• Outtakes
• Bee Vision: The Transformers robots of Cybertron
• Bringing Bumblebee to the Big Screen
• The Story of Bumblebee
• The Stars Align
• Bumblebee Goes Back to G1
• Back to the Beetle
• California Cruisin' Down Memory Lane
Bumblebee premiered in Berlin on December 3, 2018, was theatrically released in the United States on December 21, 2018, and grossed $463 million worldwide. The film received positive reviews from critics, who praised the action and Steinfeld's performance, as well as the 1980s setting and sense of nostalgia, with many calling it the best installment of the Transformers franchise. – wikipedia