Tamara Dobson is both beautiful and deadly as a federal super-agent on the trail of drug kingpins in 1973's Cleopatra Jones. She's 6 feet 2 inches of Dynamite!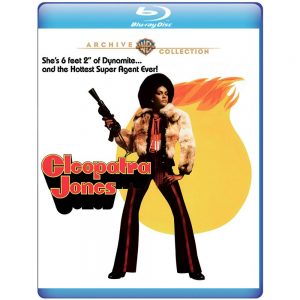 Purchase CLEOPATRA JONES on Blu-ray Today!
Special Agent Cleopatra Jones (Dobson) fights the international war against drugs, but she has her own private ordeal going on at home against the dealers who operate in her hometown. However it's when Jones destroys the Turkish poppy fields of Mommy (Shelly Winters), that the ruthless drug lord strikes back against the man Jones loves.
Check Out CLEOPATRA JONES On Blu-ray Here Directly At Warner Archive
Video / Audio Quality Details:
CLEOPATRA JONES comes to blu-ray in 1080p HD from Warner Archive as part of the Warner Archive Collection on a made to order Blu-ray. The film has an audio track of DTS HD Master Audio 2.0 Mono and SDH. The film is 89 minutes and stars a young Tamara Dobson as the first African American Heroine action star! The blu-ray looks and sounds as good as this film ever has. It's a shame we lost the late great Tamara Dobson in 2006. Interestingly never married and never had kids. A pioneer in the industry.
The film opened to a favorable critical reception. Says Los Angeles film critic Kevin Thomas, Cleopatra Jones is "an exceptionally well-made black action picture…From start to finish this fast-moving Warner's release is shrewdly calculated and affirms the gifts of its director Jack in bringing style and meaning to the exploitation picture.