The Kid Who Would Be King is a 2019 fantasy adventure film written and directed by Joe Cornish. A British-American venture, the film stars Louis Ashbourne Serkis, Tom Taylor, Rebecca Ferguson, and Patrick Stewart. The plot follows a young boy who finds King Arthur's legendary sword Excalibur, and must then use it to stop an ancient enchantress from destroying the world.
Purchase THE KID WHO WOULD BE KING on Ultra HD Blu-ray Today!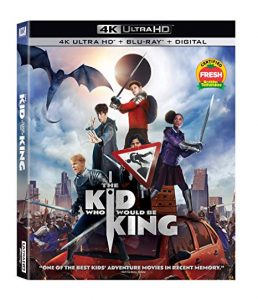 THE MOVIE:
THE KID WHO WOULD BE KING combines both the legend of King Arthur and a modern day revival of the sword of Excalibur wielded by Alex a kid who was bullied at school only to run away and find the sword a construction site.
Morgana sends minions after Alex and his friends while Merlin inside a teenager's body tries to help Alex fend off these demons in an attempt at saving all of England if he can't destroy Morgana.
Weaving together a popular classic tale with modern society is always a hard feat but the film handles it quite well all things considered. Coming in at PG THE KID WHO WOULD BE KING is a fun family flick that is worthy of some Friday night entertainment in your household. The film clocks in at 120 minutes and had a budget over 50 million so it looks incredibly well and is fantastic in the audio/video department as well listed below.
VIDEO QUALITY:
In practically equivalent to Dolby Vision THE KID WHO WOULD BE KING comes to Ultra HD Blu-ray with HDR10+ wearing the ULTRA HD Premium label that Fox so readily slaps on their releases. So how does it fair? It looks marvelous in Ultra HD with deep darks and vibrant scenes that allow for it to shine while the blu-ray seems to handle the contrast a bit less blissfully. The Blu-ray has a 1080p MPEG-AVC with a 2.39:1 aspect ratio. The target audience for this movie is obviously kids and it looks amazing in that regard for both discs. Your kids will be spoiled as I grew up with VHS. Heh.
AUDIO QUALITY:
THE KID WHO WOULD BE KING comes to Ultra HD Blu-ray with a Dolby Atmos track that despite a dialogue heavy film still has plenty of room to show it's tightly mixed track that hits hard when need be. Front tower speakers in combination of our center channel handled the bulk of the load while rears added a nice immersive experience. Also tested in a soundbar set up that sounded quite nice as well. The Blu-ray disc has a 7.1 DTS HD Master audio track that exceptional as well.
SUPPLEMENTS:
THE KID WHO WOULD BE KING comes with the following informative special features that are quite nice!
Deleted Scenes
Origins of a King
Young Knights
Hair, Makeup & Costume Tests
Merlin's Magic (x4)
Knight School
The Two Merlins
Meet Morgana
Movie Magic
"Be the King", Lay Lay Music Video
Principal photography on the film began on 25 September 2017 in London, and ended in March 2018. The film was shot in Cornwall and at Warner Bros. Studios, Leavesden. – wikipedia