Frankenstein 1970 is a 1958 science fiction/horror film, shot in black and white CinemaScope, starring Boris Karloff and featuring Don "Red" Barry. The independent film was directed by Howard W. Koch, written by Richard Landau and George Worthing Yates and produced by Aubrey Schenck. It was released theatrically in some markets on a double feature with the Zsa Zsa Gabor film Queen of Outer Space.
Purchase FRANKENSTEIN 1970 on Blu-ray Today!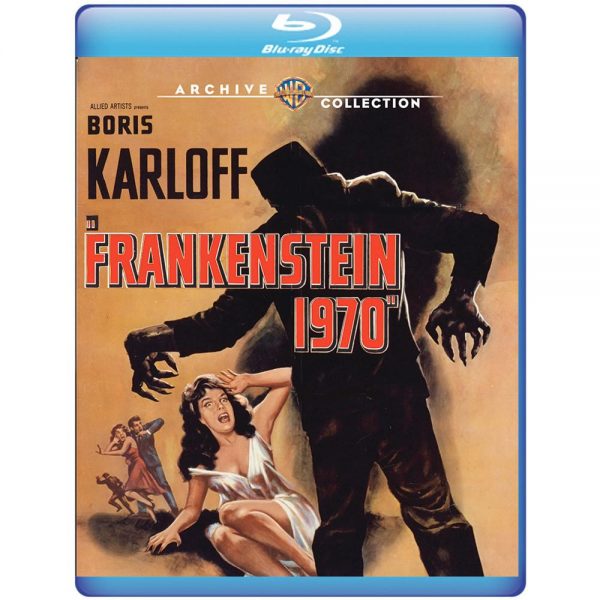 Check Out FRANKENSTEIN 1970 On Blu-ray Here Directly At Warner Archive
There's also a Karloff in the house, a fact that makes 1958's Frankenstein 1970 a must-see for savvy fright fans. Twenty-seven years after scaring the daylights out of everyone as the lumbering monster in Frankenstein, Boris Karloff is at the other end of the laboratory switches and gizmos. He's Dr. Victor Frankenstein, an aging, hulking shambles of dignity and menace who agrees to let a TV crew shoot a horror flick at the family castle. The crew members don't know it yet, but they're just what the doctor ordered: fresh body parts, ready for harvesting!
Video / Audio Quality Details:
FRANKENSTEIN 1970 comes to blu-ray in 1080p HD from Warner Archive as part of the Warner Archive Collection on a made to order Blu-ray. The film has an audio track of DTS HD Master Audio 2.0 Mono and SDH.  Clocking in at 83 minutes the film is a pleasurable viewing that looks amazing for black and white. I've always been a strong proponent of black and white films in blu-ray as 1080p seems to do them wonders. FRANKENSTEIN 1970 seems to be no different while showing some signs of age sure, but still looking much better than the year they purposed the film out for futuristic reasons. 1970.
Alternative titles during pre-production included Frankenstein's Castle, Frankenstein 1960, and Frankenstein 2000. Shot in a mere eight days on a modest budget, the film was finally titled Frankenstein 1970 to add a futuristic touch.