There's an unusual harvest at Falbury Farm: beans, hay…show tunes. It's a bumper crop, too, with Judy Garland and Gene Kelly leading all the hoofing, singing and sparking. In her final MGM musical, Garland plays Jane Falbury, a farm owner more than a bit riled when her aspiring-actress sister (Gloria De Haven) shows up with a theatrical troupe that wants to stage a musical in the family's barn.
Purchase SUMMER STOCK on Blu-ray Today!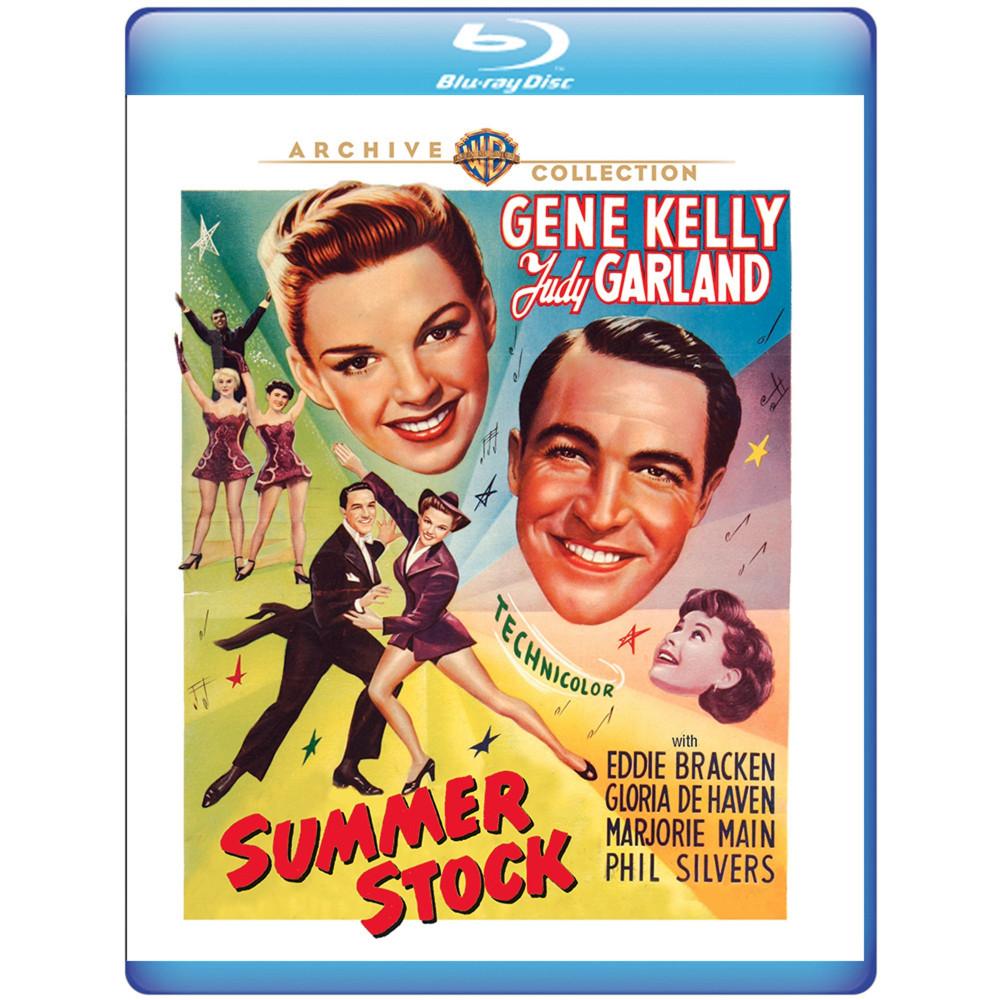 Check Out SUMMER STOCK On Blu-ray Here Directly At Warner Archive
Jane Falbury (Judy Garland) is a farm owner whose actress sister, Abigail (Gloria DeHaven), arrives at the family farm with her theater troupe. They need a place to rehearse, and Jane and her housekeeper, Esme (Marjorie Main), reluctantly agree to let them use their barn. The actors and actresses, including the director, Joe Ross (Gene Kelly), repay her hospitality by doing chores around the farm. Although Joe is engaged to Abigail, he begins to fall in love with Jane after Abigail leaves him in an angry fit. Similarly, although Jane is engaged to Orville (Eddie Bracken), she falls in love with Joe.
Video / Audio Quality Details:
SUMMER STOCK comes to blu-ray in 1080p HD from Warner Archive as part of the Warner Archive Collection on a made to order Blu-ray. The film has an audio track of DTS HD Master Audio 2.0 Mono and SDH. Clocking in at 109 minutes the film is a pleasurable viewing that will make you do a double take to think that this is from 1950! Judy Garland is amazing in what would be her final MGM movie.
We also get treated to some special features with this release. They are listed below.

Featurette Summer Stock: Get Happy!
Classic Cartoon The Cuckoo Clock
Vintage Pete Smith Specialty Short Did'ja Know?
Audio Only Bonus Outtake Song "Fall In Love"
Theatrical Trailer
Garland struggled with many personal problems during filming and Summer Stock proved to be her final film for MGM, as well as her last onscreen pairing with Kelly. By mutual agreement, MGM terminated Garland's contract in September 1950, something studio head L.B. Mayer said he later regretted doing .