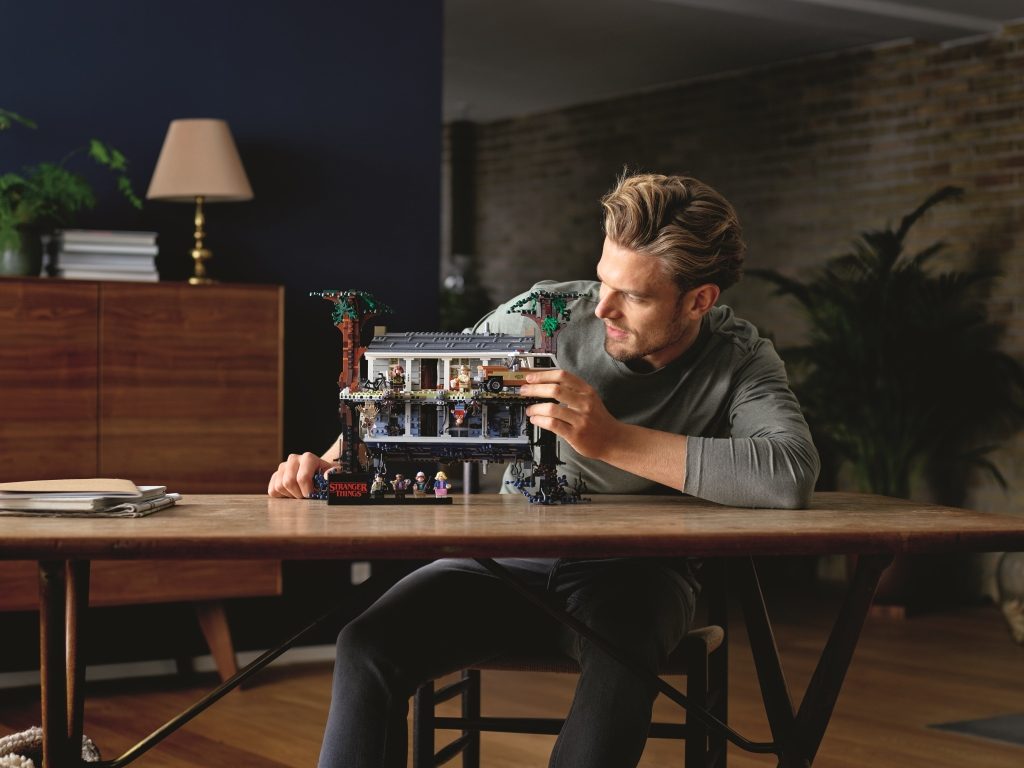 Announced today The LEGO Group is adding a new partnership with Netflix to bring a set based on the mega show Stranger Things. The set, Stranger Things: The Upside Down, available June 1 (May 15 for LEGO VIP members) literally flips traditional building upside down with the latest set. The 2,287 piece set which explores the Byers' house and the supernatural world of the Upside Down can be flipped to be displayed on either side.
Fans of the series will notice the many authentic details of the LEGO® Stranger Things set. The set is built in a way that it can be flipped between the real world Byer's house and the Upside Down equivalent and includes Will's bedroom, the living room and the dining room while The Upside Down version of the house features all the rooms from the real-world model but with a dark, vine-covered, and dilapidated look that fans will instantly recognize from the series.
Also included in the set are eight minifigures of popular characters from the hit Netflix original series: Eleven, Mike Wheeler, Lucas Sinclair, Dustin Henderson, Will Byers, Joyce Byers, Chief Jim Hopper and the Demogorgon. A new season of the popular show airs exclusively on Netflix July 4, 2019.
Details below

The Upside Down (75810)
2,287 pieces
US $199.99 – CA $269.99 – DE €199.99 – UK £179.99 – FR €199.99 – DK 1799DKK • The Byers' house features a front porch with furniture, living room, dining room and Will's bedroom.
• The living room features authentic details from the series, like the alphabet wall with a light-up function, couch, coffee table, telephone, axe, 'have you seen me?' flyer stickered element and a bear trap to catch the Demogorgon.
• Will's bedroom plays a central role in the series, which this model faithfully replicates, including details like Will's boombox, bed, desk, desk lamp, drawings and movie posters.
• The dining room includes an armchair, boxes that store Christmas lights, fantasy game rule book stickered element and a potted plant.
• The attic space includes a Mind Flayer drawing stickered element and a wizard hat for 'Will the Wise'.
• Chief Jim Hopper's police truck includes a removable roof for easy access to the interior and a pumpkin element.