THE UPSIDE is a comedic look at the relationship between a wealthy paraplegic and an unemployed man with a criminal record who's hired to help him. THE UPSIDE stars Bryan Cranston and Kevin Hart, directed by Neil Burger and written by Jon Hartmere.
Purchase THE UPSIDE on Blu-ray on NOW!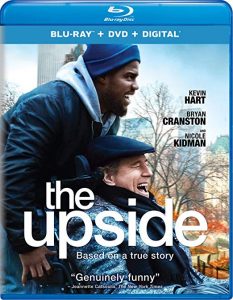 THE MOVIE:
THE UPSIDE was first released at film festivals in September 2017 but was ultimately pushed back on the theatrical release until January 2019. THE UPSIDE is a remake of the 2011 French film "The Intouchables". The film is based off the life of Philippe Pozzo di Borgo.
The film follows a wealthy paraplegic Phillip Lacasse (Bryan Cranston) that is in need of a life auxiliary to help with his everyday life functions. Dell Scott (Kevin Hart) is a down on his luck ex con that is in need of employment and stumbles upon the job of Lacasse's life auxiliary with zero experience. Turns out this is the perfect fit some them both.
Overall, this movie was pretty fun to watch. Cranston and Hart have some great chemistry between the two and Cranston is in a league of his own when it comes to acting. Cranston only being able to use facial movements to display many forms of emotions was spectacular. Then Hart was able to come through with the majority of comic relief. With the PG-13 rating and this being more of a family film his comedy was pretty tame compared to some of his past roles. But the humor was good when it was used. Hart was able to display some different acting skills that he hasn't gotten to use in past films.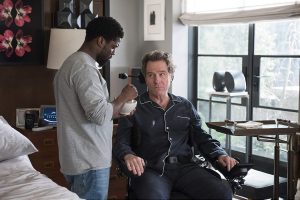 VIDEO QUALITY:
The video is a 1080p quality on the blu-ray for THE UPSIDE was all this kind of film needed. There is no ultra hd 4k release for this film but since it is more of a family comedic film the standard hd quality is acceptable. The film takes place in the city of New York or in an apartment so there were some nice city shots used in both the daylight and nightlife. So the shots and lights were really well balanced throughout.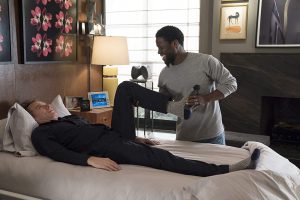 AUDIO QUALITY:
The audio is DTS-HD 5.1 Master Audio is great for this film. The overall film is very dialogue heavy so the dialogue between the casts was very clear. There were a couple singing scenes where opera was displayed and the highs from the singers were very clear as well. The only other sounds used were some random New York City sounds during certain parts of the film.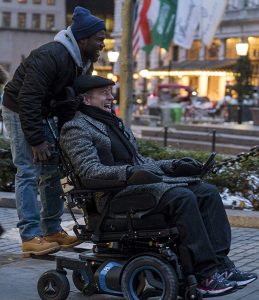 SUPPLEMENTS:
Bonus Features:
Deleted Scenes
Gag Reel
Onscreen Chemistry: Kevin and Bryan
Creating a Story of Possibility
Bridging Divisions
Embracing Positivity
Presenting a Different Side of Kevin Hart
Trailer
Disc Details:
2-disc set w/ 1 Blu-ray and 1 DVD
iTunes Digital copy
Running Time:
126 mins
Edition Ratings:
Rated PG-13
Region Coding:
Region A (B,C Untested)
Video Resolution:
1080p AVC MPEG-4
Aspect ratio:1.85:1
Audio Mixes:
English (Dolby Digital 5.1)
Audio Dubbed:
English
Subtitles:
English
Spanish