A VIGILANTE is a 2018 American drama film written and directed by Sarah Daggar-Nickson in her directorial debut.The film stars Olivia Wilde
Purchase VIGILANTE on Blu-ray on May 28, 2019!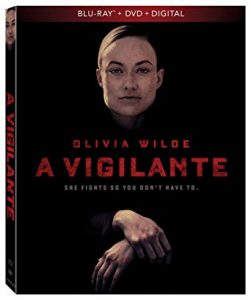 THE MOVIE:
A VIGILANTE is a film where Sadie (Olivia Wilde) has a history of domestic violence and also lost her son due to her violent relationship with her husband. After her husband has been on the run since the death of their son Sadie has transformed into a person that others turn to for help.
Sadie has been training herself to be able to defend herself and others in any situation. Her offers her services to abused women in return for any money and/or food since she has been staying in hotels due to financial struggles since her husband fled. She obviously does this service to help other women that can't seem to get out of their abusive relationship. She has become the beacon of help for many people.
You can tell that Sadie is seriously affected by the loss of her son and the abuse that her husband put her through. She attends women abuse meetings to find women that need help and to help with her own past troubles. Certain songs and drawings break her down almost like she has PTSD.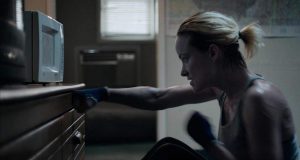 VIDEO QUALITY:
The video is a 1080p quality on the blu-ray for A VIGILANTE. I could tell that this was the directors first film. She likes the long camera takes that show the actors in one take. The majority of this film is filmed in the winter weather or inside a hotel or home. The scenes within the hotels were dark but I imagine that's due to the hotel not being the best quality room. I could also feel that some of the scenes felt a little personal.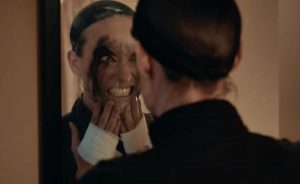 AUDIO QUALITY:
The audio is DTS-HD 5.1 Master Audio is acceptable for this film. It is a pretty dialogue heavy film overall. There are a few scenes when there is music playing and the music is pretty loud. Then the fight scenes are quiet minus the hitting that is taking place. There isn't really a soundtrack for this film. So the one song that Sadie has problems hearing and the song played when one victim puts in earbuds are really the only two songs throughout the film.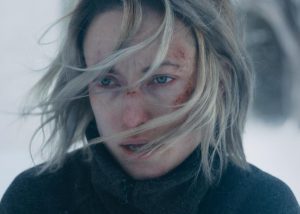 SUPPLEMENTS:
Bonus Features:
Catharsis: Creating A VIGILANTE
Disc Details:
2-disc set w/ 1 Blu-ray and 1 DVD
Digital copy
Running Time:
91 mins
Edition Ratings:
Rated R
Region Coding:
Region A (B,C Untested)
Video Resolution:
1080p AVC MPEG-4
Aspect ratio:2.40:1
Audio Mixes:
English (Dolby Digital 5.1)
Audio Dubbed:
English
Subtitles:
English
Spanish