The Movie

Video Quality

Audio Quality

Supplements
The Kid is a 2019 American semi-biographical western action film directed by Vincent D'Onofrio, from a screenplay by Andrew Lanham, and is executive produced by Carl Stubner, through Suretone Pictures. The film stars Ethan Hawke, Dane DeHaan, Jake Schur, Leila George, Chris Pratt, Adam Baldwin, and D'Onofrio.
Purchase THE KID on Blu-ray Today!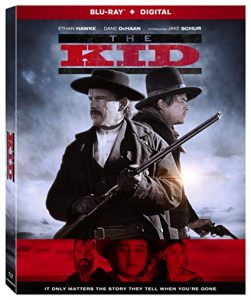 THE MOVIE:
The Kid centers around a young boy named Rio Cutler who forms an unlikely alliance with local sheriff Pat Garrett and infamous outlaw Billy the Kid in a mission to rescue his sister Sara from Grant Cutler, the boy's thuggish uncle and gang leader who has kidnapped Sara for ransom.
Long since we've waited on a modern western about the story of Billy The Kid. Despite the starpower this film brings to the table it seems to have failed to bring that punch this film really needed. That isn't to say it's a bad film per se' but one shouldn't expect the action that such other modern westerns like Tombstone or even the more recent Magnificent Seven bring to the table. It's a deeper portrayal of character development then perhaps needed compared to the right sprinkle of action and story this film needed.
VIDEO QUALITY:
THE KID comes to blu-ray with a 1080p/AVC-encoded High Definition Video Presentation that fits the film well enough to shine during outdoor landscape scenery and old west ambiance. Other times like night scenes are dark and likely could have benefited more from a 4k HDR visual the film never the less looks more than adequate on blu-ray and bodes well.
AUDIO QUALITY:
THE KID comes to blu-ray with a 5.1 DTS HD Master Audio track that accompanies the film quite well. Mostly a dialogue driven film until drama unfolds but when it does it sure does ring out and light up the sound stage.
SUPPLEMENTS:
THE KID comes to blu-ray disc with only one sole special feature.
THE MAKING OF THE KID: A featurette of sorts that gives some good insight into the film.
In October 2017, filming began in the Santa Fe, New Mexico area and the first trailer appeared in February of 2019.