FIVE FEET APART is a 2019 American romantic drama film directed by Justin Baldoni and written by Mikki Daughtry and Tobias Iaconis. In the film, Haley Lu Richardson and Cole Sprouse play two young patients with cystic fibrosis, who try to have a relationship despite always being forced to stay a certain distance away from each other.
Purchase FIVE FEET APART on Blu-ray on JUNE 11, 2019!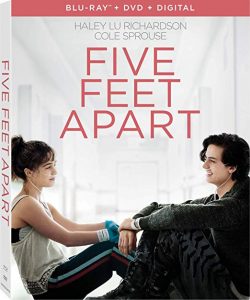 THE MOVIE:
FIVE FEET APART is defiantly a movie that will hit every emotion that your body has within it. The movie follows Stella (Haley Lu Richardson), who is diagnosed with Cystic Fibrosis who will actively use social media platforms to show her life living with CF. She will stream treatments from her hospital room which has basically become a second home to her due to her chronic condition. She has had to spend so much time inside the hospital that the workers and even other CF patients are some of her best friends. She is even allowed to be responsible for her own meds while staying in the hospital.
While Stella is wondering onto the new born floor of the hospital, another patient named Will (Cole Sprouse) who is also diagnosed with CF meets Stella. Stella and Will are two totally different kinds of patients. Will does not follow the treatment protocols and restrictions and seems like he's just waiting to die.
With the form of CF they each have they are not allowed to be within five feet of each other. They could both get even more sick if they were to touch or get too close. It could be deadly for them. Even with the restrictions between them they develop a love that has to be different than any normal love story. They know they will never have a normal relationship, so they must work with what they can and enjoy each other while they still can.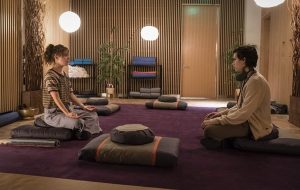 VIDEO QUALITY:
The video is a 1080p quality on the blu-ray for FIVE FEET APART is up to standards. The film basically takes place within a hospital so the lightening isn't the best but I think the director wanted to keep the feel of being trapped within a hospital. To where the hospital is almost like a prison and Will and Stella can't escape. But the images were clear and enjoyable to watch throughout. No complaints.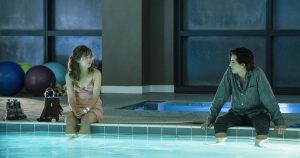 AUDIO QUALITY:
The audio is DTS-HD 5.1 Master Audio is great for this film. The dialogue was clear throughout and the sounds of a normal hospital was heard very well. There is a lot of FaceTiming throughout the film and the audio quality never went below quality. Overall, the sound quality was great.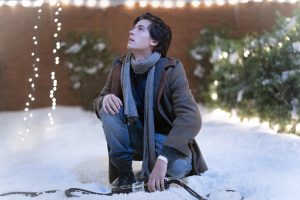 SUPPLEMENTS:
Bonus Features:
Audio Commentary with Director Justin Baldoni
Crossing It Off: Making FIVE FEET APART
On the Set of FIVE FEET APART
Attention to Detail
An Artist's Eye
Theatrical Fan Event
Deleted Scenes
Alternate Ending
Disc Details:
2 Disc Set
Blu-ray
DVD
Digital copy
Running Time:
116 mins
Edition Ratings:
Rated PG-13
Region Coding:
Region A
Video Resolution:
1080p AVC MPEG-4
Aspect ratio:2.39:1
Audio Mixes:
English (Dolby Digital 5.1)
Subtitles:
English
Spanish