SOUTH PARK SEASON 22 is the twenty-second season of South Park, an American animated sitcom created by Trey Parker and Matt Stone, premiered on Comedy Central on September 26, 2018, and concluded on December 12, 2018; after 10 episodes aired.
Purchase SOUTH PARK SEASON 22 on Blu-ray on NOW!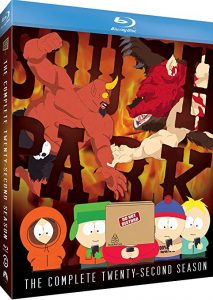 THE MOVIE:
SOUTH PARK SEASON 22 is still showcasing exactly what brought them their fame. This show has managed to stay relevant after decades on the air. Still as popular as it ever was. The thing about SOUTH PARK is that it also changes with the times and with what the world is also currently going through. They really don't have a set story line where they must follow certain people or things.
This season was able to focus on characters such as Al Gore, ManBearPig and Amazon CEO Jeff Bezos. What other shows can manage to poke fun at famous people other than SOUTH PARK? At this point it might be an honor to have them make fun of you on their long reining show.
Of course what would SOUTH PARK be without random exploits from fan favorite character Eric Cartman. The character that uses false disabilities to her advantage and like to discuss women's rights with his Vice Principal. The show defiantly wouldn't be the same without Cartman.
VIDEO QUALITY:
The video is a 1080p quality on the blu-ray is about what is expected from a show such as SOUTH PARK. Unlike live action blu-ray films or shows, it's hard to really be amazed by the video quality the show displays. The animation has improved drastically since the first season debuted in 1997. But SOUTH PARK has still managed to get away with the animation style they have had for over 20 years. It defiantly gets the job done and the quality is nothing to complain about.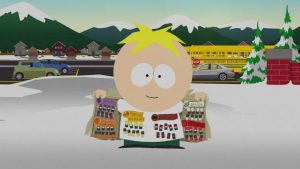 AUDIO QUALITY:
The audio is DTS-HD 5.1 Master Audio is also up to par with what the creators have done in the past. The dialogue is of course great and the words are very clear. Then there are some gunshots and musical references made through out the season and all of those are very clear as well.
SUPPLEMENTS:
Bonus Features:
Mini-Commentaries by the creators of South Park, Trey Parker & Matt Stone, on all episodes
#SocialCommentary on all episodes
Deleted Scenes
Disc Details:
Blu-ray
2 Discs
Running Time:
223 mins
Edition Ratings:
Rated TV-MA
Region Coding:
Region A
Video Resolution:
1080p AVC MPEG-4
Aspect ratio: 1.78:1
Audio Mixes:
English (Dolby Digital 5.1)
Subtitles:
English