Captain Marvel is a 2019 American superhero film based on the Marvel Comics character Carol Danvers. Produced by Marvel Studios and distributed by Walt Disney Studios Motion Pictures, it is the twenty-first film in the Marvel Cinematic Universe (MCU). The film is written and directed by Anna Boden and Ryan Fleck, with Geneva Robertson-Dworet also contributing to the screenplay.
Purchase Captain Marvel on Ultra HD Blu-ray Today!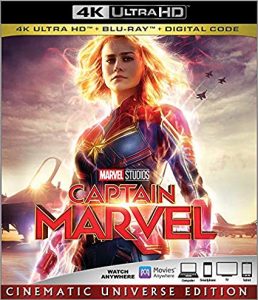 THE MOVIE:
Captain Marvel did amazing at the box office no matter if certain fan boys didn't like it. I thourougly enjoyed the film and while its not in my top 5 of Marvel films it may be in my top 10 and is most certainly in my top half. Brie Larson did a great job as Vers and to this day I'm still trying to understand the gripe that people are having with Captain Marvel. As most of it seems to come from the character. Was she too powerful? Perhaps, but it was handled well enough in Endgame. Is she not as pretty on the eyes as people expected and did they want the more scantly clad Captain Marvel from the comics of the 80's? I'm not quite sure. I felt the movie was strong enough and had great layers of comedy and while the take on the 90's was nice it could have been a tad bit better as while it had great nods it felt it lacked a little bit of heart with the musical choices tho they were far from horrible.
VIDEO QUALITY:
Captain Marvel comes to Ultra HD Blu-ray 4K with a wonderful picture with much of the film being filmed in 6.5K or 8K with Arri Alexa 65, Red Weapon, and Panavision Millennium cameras with Panavision Sphero lenses. With HDR the film looks great, with deep rich darks and bright hues. Hopefully in the future we can see some more Dolby Vision Disney Marvel releases but this one still looks great none the less.
AUDIO QUALITY:
Captain Marvel comes to Ultra HD Blu-ray 4K with a Dolby Atmos audio track that soars higher, further, faster. See what I did there? My home theater system rocked with great clarity and wonderful usage of the bass.
Additional audio options include English 2.0 Descriptive Audio, Quebec French in 5.1 Dolby Digital, and French, Spanish, German, Italian, and Japanese in 7.1 Dolby Digital Plus. Optional subtitles include English for the Hearing Impaired, Quebec French, French, Spanish, German, Italian, Japanese, Cantonese, Korean, Norwegian, Swedish, and Simplified Chinese.
SUPPLEMENTS:
All of the Special Features are found on the accompanying blu-ray disc.
Alternate Movie Versions
Movie with Intro – An introduction by directors/screenwriters Anna Boden & Ryan Fleck.
Movie with Commentary – Commentary by directors/screenwriters Anna Boden & Ryan Fleck.
Featurettes:
Becoming a Super Hero – Follow Brie Larson's journey as she joins the MCU, and see what it takes to be a Marvel Super Hero in every sense of the word.
Big Hero Moment – Explore how impactful Captain Marvel's entrance into the MCU is, and how she inspires audiences around the world.
The Origin of Nick Fury – Witness some of the MCU's most significant events through Nick Fury's eyes, and see how his influence helped shape the MCU.
The Dream Team – Discover why Anna Boden & Ryan Fleck are the perfect pair to direct Marvel Studios' most powerful hero.
The Skrulls and the Kree – Take a deeper look into the Skrulls and the Kree, their ongoing conflict, and the importance of shifting perspectives in the film.
Hiss-sterical Cat-titude – The cast and crew dish on working with Goose and the raw talent it takes to portray such a complex character on-screen.
Deleted Scenes
"Who Do You Admire Above All Others?" – Kree Commander Yon-Rogg must answer to the Supreme Intelligence, who questions his leadership ability.
Starforce Recruits – Yon-Rogg lectures a roomful of students on the Kree's mission to defend all nations from the scourge of the Skrulls.
Heading to Torfa – Vers (Danvers) and her fellow Starforce members banter as they prepare for their rescue mission to Torfa.
"What, No Smile?" – In this alternate version of a scene from the movie, Vers is consulting a map when she receives a dubious offer of assistance.
Black Box – Keller attempts to track Vers and Fury after their escape in a quadjet from the Joint USAFA Facility.
Rookie Mistake – Novice S.H.I.E.L.D. agent Phil Coulson helps Director Keller out of an embarrassing situation.
Gag Reel – The fate of the universe hangs in the balance as the cast battles props, flubs and Flerkens in these outtakes from the set.
Digital Exclusives:
Journey into Visual Effects with Victoria Alonso – Experience how filmmakers' visions of the MCU come to life on-screen through the skill of the Visual Effects team.
What Makes a Memory: Inside the "Mind Frack" – What does it take to craft an action-packed sequence for a Marvel Studios film? Nothing short of an epic team effort!
Concept Art – Explore artwork from "Captain Marvel" and trace the visual development of characters.
On-Set Images – Uncover a trove of behind-the-scenes and production photography.
Captain Marvel premiered in London on February 27, 2019, and was theatrically released in the United States on March 8, 2019, in IMAX and 3D. The film has grossed over $1.1 billion worldwide, making it the first female-led superhero film to pass the billion-dollar mark. – wikipedia