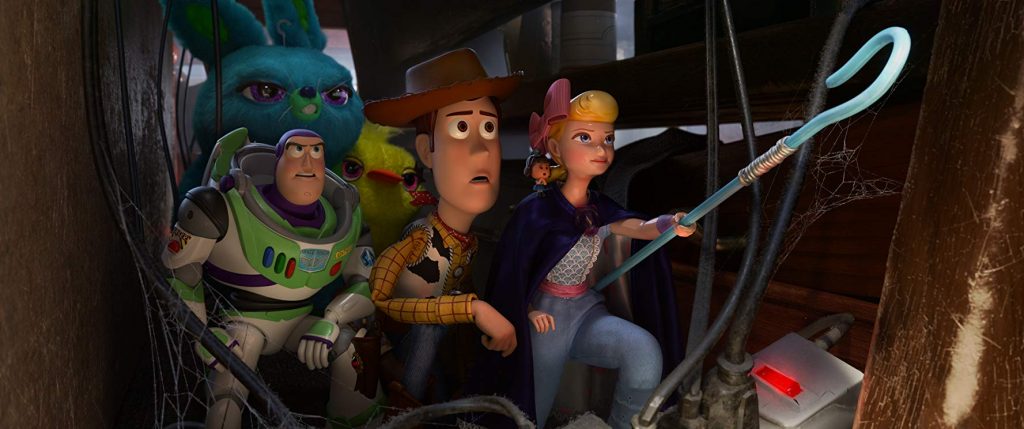 Although charming, TOY STORY 4 proves this franchise deserves to stored back in the closet.
By Matt Cummings
With the exception of ENDGAME, JOHN WICK 3 and GODZILLA: KING OF THE MONSTERS, Summer 2019 hasn't exactly been a memorable one. Presented with a steady diet of sequels we neither wanted nor needed, it's been a season of hard lessons for Hollywood. And the lesson continues with this week's release TOY STORY 4, a likable but totally unnecessary (final?) chapter in a once-beloved series that's clearly ready to be boxed up and stored in a closet.
A few years have passed since Woody (Tom Hanks), Buzz Lightyear (Tim Allen), Jessie (Joan Cusak) and the rest of the gang were given to a new owner and where Woody's lost love Bo Peep (Annie Potts) was donated to a new owner. When Woody's child comes home with a new creation called Forky (Tony Hale), he takes it upon himself to bring the fledgling toy – made of a spork, tongue depressor, and some bobbling eyes – into the fold. As the family ventures on a road trip, Forky and Woody get captured by the talking doll Gabby Gabby (Christina Hendricks), whose desperation to escape as well has made her into a sadistic queen of an antique store. Faced with Forky's demise and the arrival of Bo back into his life, Woody makes a life-altering decision, while Buzz and his friends try to rescue him and Forky before the RV leaves for the next town.
TF4 isn't a bad film, but it contains zero of the emotional hooks that made the first two movies so memorable. There's very little interaction of the characters beyond Woody and Buzz; in fact, two likable carnival toys (Kenan-Michael Key and Jordan Peele) provide the bulk of the comedy and are given more lines than Trixie, Jessie, or any of the original toys. The addition of them and the defective Canadian toy Duke Kaboom (a hilarious Keanu Reeves) proves these three have bright futures in animation voice if they want them. But TF4 soon devolves into TF3 territory, via the sadistic Gabby Gabby, whose desperation never presses on our emotional heartstrings, nor does Woody's decision to help make any sense. I won't give that part away, but you'll see the gaping plot hole as soon as it develops.
Director Josh Cooley and 8 other writers including Andrew Stanton and Rashida Jones don't flesh out several of the movie's twists and fail to recapture the joy of humans owning toys and the human-like emotion of need which toys in this series have been so good at projecting. TF4 really comes off as an extended television special given a theatrical green light, rather than a worthy addition to the movie series. Composer Randy Newman does return to deliver several new tunes, which really ties the heartbeat of the series together. There is something to be said about Hall's Forky, a lovable piece of trash that keeps TF4 from going completely off the rails. His innocence is part and parcel of the series itself, with Forky's humanity standing as a refreshing antidote to our current political illness. I never thought I'd say that about a spork, but there it is.
TOY STORY 4 isn't terrible but it also feels more like an extended television special than a worthy compliment in the movie series. That's not necessarily bad, but it also means that its rather final ending should signal that this franchise is ready for smaller screens or to be retired all together. It contains none of the emotional tugs that made the first two so appealing, and the franchise's recent dependence on sadistic bad toys has just got to stop. It's time to store this series in a closet, to wish Woody and Buzz and everyone else a fond farewell, and to remember that franchises live, grow and eventually die. For while it's ok to keep your toys, it's sometimes better if you simply admire them from afar.
TOY STORY 4 is rated G and has a running time of 100 minutes.