The serviceable but forgettable STUBER plays like a 90's movie nearly three decades in the making.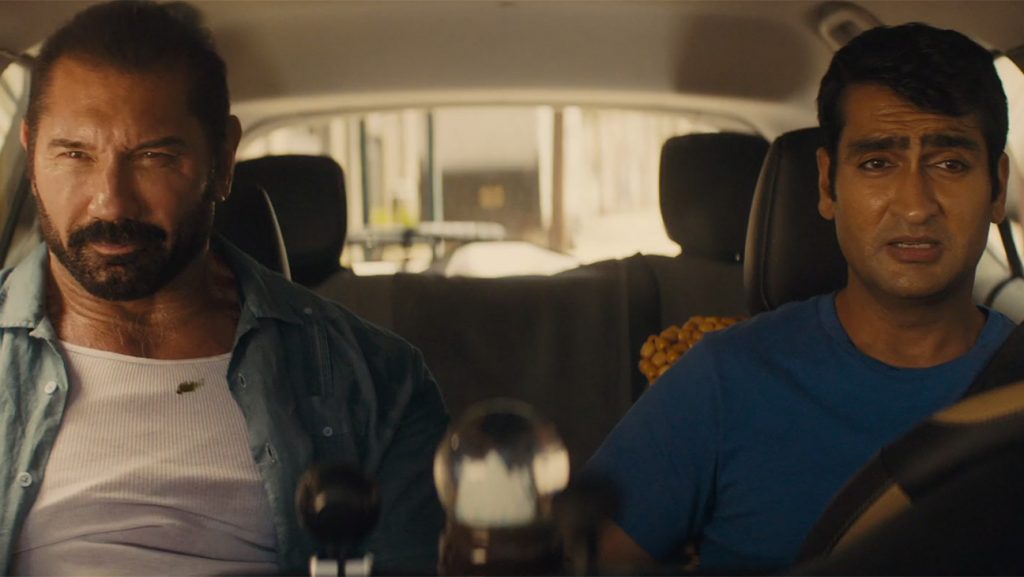 By Matt Cummings
Summer 2019 is off to a rocky start which may change soon with titles like SPIDER-MAN: FAR FROM HOME and HOBBS & SHAW. Unfortunately, the comedy STUBER won't be one of them, suffering from an identity crisis and trying to be as many different films as possible without doing any of them right.
Hardened LA Police Detective Vic (Dave Bautista) is tracking a drug dealer who killed his partner, when he's saddled with Millennial Uber driver Stu (Kamail Ninjiani). Stu has been pining for a long-time friend to notice him at the expense of his happiness and long-term goals. He works a dead-end big-box store job, accepts insults from his boss, and wonders why his Uber customers fail to give him 5 stars. But when the brusk Vic demands a ride, the two are set on a journey through the armpit of LA, testing their bonds through hails of gunfire and an electric car with limited range.
STUBER is a turn-your-brain-off affair, ready for popcorn but immediately forgettable. It feels like one of perhaps 10 different versions that survived test audience screenings, going through at least one re-shoot along the way. There's a Frankenstein-ed police mole story here, a commentary on Uber, a lone-cop-who-can't-love story, a go-out-and-get-laid mantra and probably three others all vying for screen time, including Vic's ex-wife featured on a cruise ship picture. Director Michael Dowse and Writer Tripper Clancy don't have a real strong case to make here, except to throw a bunch of 80s meta jokes against the wall and hope some stick along with the brain matter being ejected through wild gun battles. Your reaction to each scene will depend entirely upon what era you were born into, and even then you might not connect with what Dowse and Clancy present.
Bautista and Nanjiani are fine together, but the chemistry never attains the talent on the billboard. It's clear that Hollywood sees Bautista as a cheaper version of Dwayne Johnson, which is too bad because the guy can act; remember, Bautista was in the first few minutes of BLADE RUNNER 2049. At least Ninjiani isn't reduced to uttering predictable racial responses, but he too is sandwiched in as an emasculated Millennial against Bautista's menacing frame. Fans of Karen Gillian are going to be upset, as her appearance here is more cameo than leading lady, perhaps a marketing ploy to get bums in seats. She's featured heavily in the marketing here, proving that her appearance here seems edited down from a larger role.
I'm portraying STUBER like it's a really bad date that somehow finds a way to be worse. It's actually a pretty funny movie, provided you can somehow appreciate 80s references by people who weren't alive during the 80s, 2K social media meta and jokes about driving an all-electric car without being able to charge. There's a ribbon here about taking big chances, and that might have worked had it not had to compete with so many other suitors. A sequence where Ninjiani breaks down a scene from THE NEVER-ENDING STORY ala Spider-man's THE EMPIRE STRIKES BACK did not connect at all with those test audiences who weren't 40+ years old, and it's clear that group isn't going to pay to see STUBER anyhow.
STUBER is an entirely serviceable and fairly funny Summer comedy. But its DNA has strong and strange ties to late 80s/early 90s meta, coming across like a Development Hell movie somehow given life. That might not play well with Millennials who won't get the NEVER-ENDING STORY and PRINCESS BRIDE jokes, and people who actually own cars will watch the Uber nightmares swearing they'll never take the service. Bautista and Ninjiani do their best to drain the electric car of all its energy (and they actually do it here), but the final result is a film that could have been a lot better, perhaps if it had been released during the era of the EV-1.
STUBER is rated R for violence and language throughout, some sexual references and brief graphic nudity and has a runtime of 93 minutes.