None but the Brave, also known as Y?sha nomi (???? None but the brave men) in Japan, is a 1965 war film with Frank Sinatra, Clint Walker, Tatsuya Mihashi, Tommy Sands and Brad Dexter. This is the only film directed by Frank Sinatra, and the first Japanese-American co-production
Purchase NONE BUT THE BRAVE on Blu-ray Today!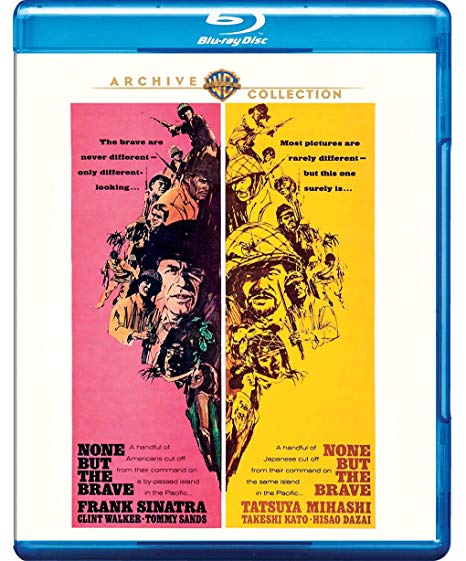 Check Out NONE BUT THE BRAVE On Blu-ray Here Directly At Warner Archive
Video / Audio Quality Details:
NONE BUT THE BRAVE comes to blu-ray in 1080p HD from Warner Archive as part of the Warner Archive Collection on a made to order Blu-ray. The film has an audio track of DTS HD Master Audio 2.0 Mono and SDH. Clocking in at 105 minutes the film is that of an old classic starring and Directed by Frank Sinatra. The film looks great and likely the best we'll ever see it on physical disc.
This was the sixth of nine films produced by Frank Sinatra, and the only film he directed. The executive producers carried extra fame in their own right – William H. Daniels was former president of the American Society of Cinematographers, while Howard W. Koch was former president of the Academy of Motion Picture Arts and Sciences. During filming, on May 10, 1964 in Hawaii, Sinatra was caught in a riptide along with Ruth Koch, wife of Howard Koch. Actor Brad Dexter (Sgt. Bleeker) and two surfers were able to rescue Sinatra and Koch, saving their lives.