Shazam! is a 2019 American superhero film based on the DC Comics character of the same name. Produced by New Line Cinema and distributed by Warner Bros. Pictures, it is the seventh installment in the DC Extended Universe (DCEU). Directed by David F. Sandberg from a screenplay by Henry Gayden, and a story by Gayden and Darren Lemke, the film stars Asher Angel as Billy Batson, a teenage boy who can transform into an adult superhero, played by Zachary Levi.
Purchase SHAZAM! on Ultra HD Blu-ray Today!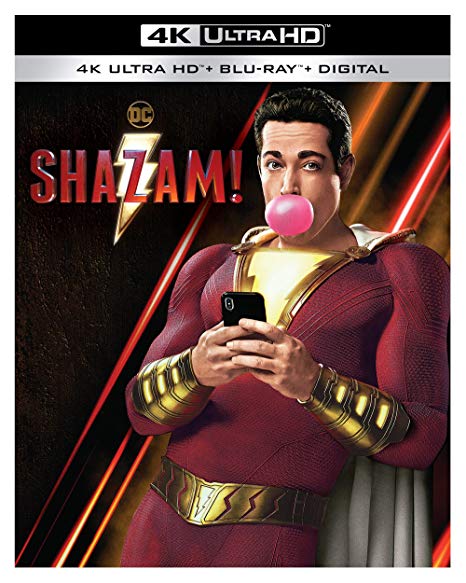 THE MOVIE:
The 14-year-old foster child Billy Batson (Asher Angel) has jumped from home to home ever since he lost his mother more than a decade before. When he lands with a caring but eccentric family, Billy decides it's time once more to pack up as he searches for his lost family. After defending his foster brother Freddy Freeman (Jack Dylan Grzer) in a fight, Batson is transported to an ancient temple and endowed with the powers of Shazam, transforming him into a twenty-something man (Zachary Levi). However, Billy and Freddy have no idea of Shazam's powers and ditch school to seeks some answers. And Shazam will need those powers soon, as he becomes involved in a magical fight for humanity against Dr. Thaddeus Sivana (Mark Strong), who has sought Shazam's power all of his life. Billy will have to make a tough choice: stand with his new family or run away again, placing the entire world at risk of Sivana's Seven Deadly Sins which he now commands.
SHAZAM! is an entertaining and – dare I say it – fun film. You can't help but laugh to see how the titular hero learns his powerset, failing hilariously at first only to stumble across said powers in other scenes that are equally funny. Part of that comes from the excellent chemistry between Levi and Grazer, who exploit Shazam's power for cash, junk food, and other dumb things young teens seem to value. It's what keeps the movie fresh, demonstrating that WB has actually learned something about making these movies: give us great characters with appealing backstories while mixing in a little demigod and big action set pieces. Levi steals the film, flexing his kid muscles to reveal a child who throughout the first two acts has no idea how to be a hero until he learns to become one. Levi will be a strong addition to #TeamJL, provided that we actually see a follow up film. Grazer stands out from the rest of his pedestrian foster friends, who do enjoy a bit of sweet revenge in the film's surprising reveal. Strong never realizes his true potential, but it is fun to see the dark and brooding actor come face to face with a comedic talent like Levi.
Director David F. Sandberg and a team of writers including Henry Gayden stitch together the funniest superhero origin story since GUARDIANS OF THE GALAXY, but achieve their success in a very different way. There's no memorable music here, nor are there any furry or tree friends for Shazam to mock; instead, Sandberg goes for the cheese and hits paydirt. A film like SHAZAM! succeeds partially because it doesn't take itself too seriously, and that fact will most likely anger fanboys who recently learned of Director Zach Snyder's heavy-duty (and now scrubbed) plans for his JUSTICE LEAGUE trilogy. You'll laugh a lot here, and that's the whole point, even if the film is indicative of the franchise's larger issues.
SHAZAM! proves that while the DCEU has righted the ship, its long-term health is still up for grabs. The three end credit scenes are poorly executed, their bad guy formula still centers on fly-punching things, and its side characters are underdeveloped and feel superfluous. Marvel worked out most of its issues early on, and DC is under the gun to make the same adjustments in order to keep audiences engaged.
VIDEO QUALITY:
SHAZAM! comes to Ultra HD Blu-ray with Dolby Vision allowing for some super vibrant brights and deep darks that give off one heck of a picture! You won't find any complaints in the picture quality department and the same can be said of the audio below.
AUDIO QUALITY:
SHAZAM! comes to Ultra HD Blu-ray with Dolby Atmos that allows this big picture to breath and become immersive in your living room or home theater. A fun filled flick that has lots of great action and testing of such powers as he figures out all his capabilities thus puts your speakers to work.
SUPPLEMENTS:
SHAZAM! Comes to Ultra HD Blu-ray and Blu-ray with the following special features:
Shazam Exclusive Motion Comic
The Magical World of Shazam
Super Fun Zac
Carnival Scene Study
Shazamily Values
Who is Shazam?
Deleted Scenes
Gag Reel
Shazam! was released in the United States by Warner Bros. Pictures in RealD 3D, Dolby Cinema, and IMAX 3D on April 5, 2019. The film has grossed over $364 million worldwide, making it a commercial success despite being the lowest-grossing film of the DCEU. The film received positive reviews from critics, with praise for Sandberg's direction and the performances of Levi and Grazer, as well as its light tone and sense of fun. – wikipedia