Master Z: Ip Man Legacy is a 2018 Chinese martial arts film directed by Yuen Woo-ping and produced by Raymond Wong and Donnie Yen. It is a spin-off and direct sequel to the 2015 film Ip Man 3. This film stars Max Zhang, Dave Bautista and Liu Yan, and was released on December 21, 2018
Purchase MASTER Z: IP MAN LEGACY on Blu-ray Today!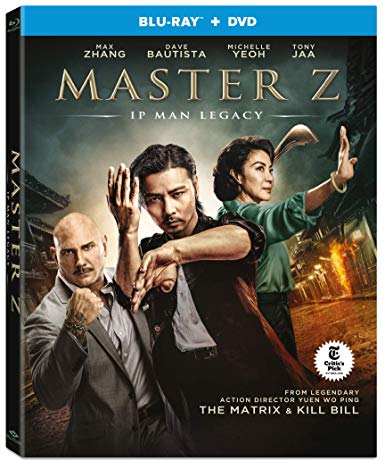 THE MOVIE:
Famous action Director Yuen Woo Ping brings a star studded cast of Asian Cinema with Michelle Yeoh, Tony Jaa, and Max Zhang among others to work with Guardians of the Galaxy star Dave Bautista to bring forth a martial arts ruccus that's worth your time of seeing!
Following his defeat by Master Ip, Cheung Tin Chi goes on about life with his son in Hong Kong trying to keep his head held low and go about life, but the mix of foreigners, riff raff and triad leaders soon draw him back in to the fight.
Master Z is a fun watch and much more enjoyable that Ip Man Zero.
VIDEO QUALITY / AUDIO QUALITY:
Coming to Blu-ray with a Dolby Atmos track and an above average transfer you won't find any complaints in the video/audio department for a movie of this nature and budget. Looks just fine in both our tested living room environment with a soundbar and also home theater with Atmos.
Language: Cantonese (original), Mandarin, English (dub)
Subtitles: Chinese and English
SUPPLEMENTS:
BONUS FEATURES:
English Language Available
Behind the Scenes
Trailers