Godzilla: King of the Monsters (released as Godzilla II: King of the Monsters in some markets) is a 2019 American monster film directed by Michael Dougherty and co-written by Dougherty and Zach Shields from a story by Max Borenstein, Dougherty, and Shields. A sequel to Godzilla (2014), it is the 35th film in the Godzilla franchise, the third film in Legendary's MonsterVerse, and the third Godzilla film to be completely produced by a Hollywood studio.
Purchase GODZILLA: KING OF THE MONSTERS on Blu-ray Today!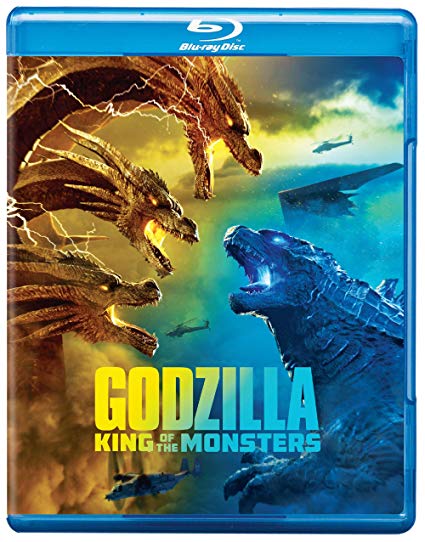 THE MOVIE:
Godzilla King of the Monsters is the follow up to the smash hit and revival of Godzilla with 2014's "Godzilla". This 35th film in the Godzilla franchise, and 3rd to be produced by a Hollywood studio follows Godzilla who the humans rely on to defeat King Ghidorah who has awakened and called upon other titans to destroy the world.
The monsterverse is a live and well for Legendary Pictures and I look forward to the future Godzilla vs. Kong slated to come still in 2020.
VIDEO QUALITY / AUDIO QUALITY:
The video quality is strong for this blu-ray, but unfortunately we aren't reviewing the Ultra HD Blu-ray 4k which boasts HDR10+. The audio quality on the other hand is still exceptional as the Dolby Atmos track delivers romping stomping action that will blast through your home theater set up with every roar. Some soundbars also include Atmos capability and would be great for your main tv watching room if you don't have a home theater.
SUPPLEMENTS:
Commentary by director Michael Dougherty
Godzilla: Nature's Fearsome Guardian
Mothra: Queen of the Monsters
King Ghidorah: The Living Extinction Machine
Rodan: Airborne God of Fire
Godzilla 2.0
Making Morthra
Creating Ghidorah
Reimagining Rodan
The Yunnan Temple
Castle Bravo
The Antarctic Base
The Isla de Mara Volcano
The Undersea Lair
Millie Bobby Brown: Force of Nature
Monster Tech: Monarch Joins the Fight
Monsters Are Real
Welcome to the Monsterverse
Deleted Scenes
Godzilla: King of the Monsters was released on May 31, 2019, to mixed reviews, with praise for the visual effects, action sequences, cinematography, and musical score but criticism aimed at the pacing, tone, story, and characters. – wikipedia