MA is a 2019 American psychological horror film directed by Tate Taylor and written by Scotty Landes. It stars Octavia Spencer, Juliette Lewis, Diana Silvers, Corey Fogelmanis and Luke Evans, and follows a group of teenagers who befriend a lonely middle-aged woman who allows them to party in her basement, and find themselves being terrorized by her.The film was produced by Jason Blum, through his Blumhouse Productions company, along with Taylor and John Norris.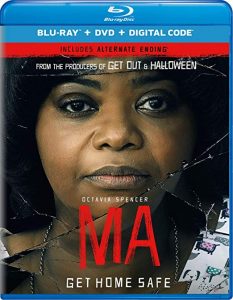 THE MOVIE:
The movie starts when Maggie (Diana Silvers) and her mother Erica (Juliette Lewis) move back to the town in Ohio her mother grew up in so they can start fresh. When Erica starts school she begins to make friends with this certain group of people that decide to invite Erica out to party together. But, this is when all the crazy begins.
The group of teens is attempting to convince an adult to purchase alcohol for them so they can drink during their night of events. That is when Erica asks this stranger named Sue Ann (Octavia Spencer) also known as "MA" to purchase the alcohol. After a little resistance Sue Ann decides to be the "fun adult" and get the alcohol for them.
Not only does Sue Ann decide to buy the alcohol, she then decides to invite the teens over to drink safely in her basement. They accept her invitation and head over to Su Ann's for a night of hospitality and fun. The only problem is that Sue Ann has a history that the teens are unaware of.
Overall, the film was a super fun thriller that lets Octavia Spencer shine as the creepy, psycho lady she was supposed to portray. I don't remember ever seeing her in a role such as this but I would love to see it again if the role ever presents itself. There are a few moments throughout the film that even had me feeling a tad uncomfortable, which is usually a good sign in thriller movies.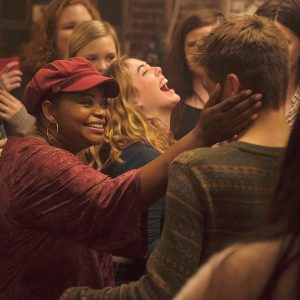 VIDEO/AUDIO QUALITY:
The video is a 1080p quality and is great for the film produces. There isn't the need for any crazy special effects in this film so 4K wouldn't be very different. The audio quality for the film is a standard DTS-HD 5.1 Master Audio. The dialogue was pretty clear throughout the film. Obviously like in other thriller films there are screams and silent creeping around instead of loud bangs and booms like in action films but the audio was great for what the film required.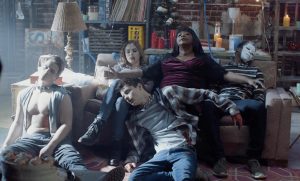 SUPPLEMENTS:
Bonus Features:
Alternate Ending
Deleted Scenes
Creating Sue Ann
Party at Ma's
Theatrical Trailer
Disc Details:
Two Disc Set
Blu-ray
DVD
Digital copy
Running Time:
1hr 40min.
Edition Ratings:
Rated R
Region Coding:
Region A (B,C untested)
Video Resolution:
Resolution: 1080p
Original aspect ratio: 2.39:1
Audio Mixes:
English (Dolby Digital 5.1)
French
Spanish
Subtitles:
English, French, Spanish