Daybreakers is a 2009 Australian–American science fiction action horror film written and directed by Michael and Peter Spierig. The film takes place in a futuristic world overrun by vampires. A vampiric corporation sets out to capture and farm the remaining humans while researching a substitute for human blood. Lead vampire hematologist Edward Dalton's (Ethan Hawke) work is interrupted by human survivors led by former vampire "Elvis" (Willem Dafoe), who has a cure that can save the human species.
Purchase DAYBREAKERS on Ultra HD Blu-ray Today!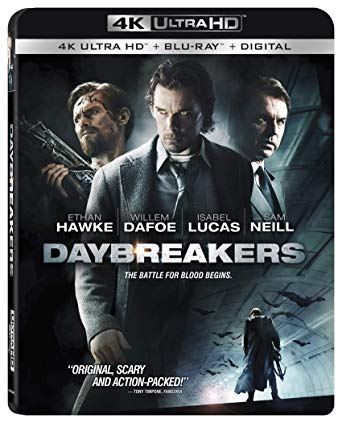 THE MOVIE:
Four-time Academy Award® nominee Ethan Hawke plays Edward Dalton, a researcher in the year 2019, (heh) when an unknown plague has transformed the world's population into vampires. As the human population nears extinction, vampires must capture and farm every remaining human, or find a blood substitute before time runs out. However, a covert group of vampires makes a unique discovery, one which has the power to save the human race. Can our man of the hour save the day for the humans?
VIDEO QUALITY / AUDIO QUALITY:
DAYBREAKERS comes to Ultra HD Blu-ray 4k with both Dolby Vision and Dolby Atmos. The Dolby Vision, lends itself well to a film that has a dark tone, dark scenes and dark appeal especially given its a vampire flick. Deep darks then allow the film to feel more full from a video quality perspective. I can see some improvement from the blu-ray which wasn't bad by any stretch of the imagination. The Dobly Atmos track is always welcomed and will defer to a 7.1 DTS HD Master audio track for anyone not capable of Atmos.
SUPPLEMENTS:
4K ULTRA HD / BLU-RAY SPECIAL FEATURES
"Making of Daybreakers" Multi-Part Documentary
The Big Picture (Spierig Brothers Short Film)
Audio Commentary with Co-Directors Peter and Michael Spierig and Creature Designer Steven Boyle
Theatrical Trailer
Daybreakers premiered at the Toronto International Film Festival and was released in the United Kingdom on 6 January 2010 and in North America on 8 January 2010. The film grossed over US$50 million and received mixed to positive critical reception. – wikipedia