Disney's Aladdin Ultra HD 4K Review

Audio / Video Quality

Supplements
Aladdin is a 2019 American musical fantasy film produced by Walt Disney Pictures. Directed by Guy Ritchie, who co-wrote the screenplay with John August, it is a live-action adaptation of Disney's 1992 animated film of the same name, which is based on the eponymous tale from One Thousand and One Nights. The film stars Will Smith, Mena Massoud, Naomi Scott, Marwan Kenzari, Navid Negahban, Nasim Pedrad, Billy Magnussen, and Numan Acar, as well as the voices of Alan Tudyk and Frank Welker.
Purchase DISNEY'S ALADDIN on Ultra HD Blu-ray Today!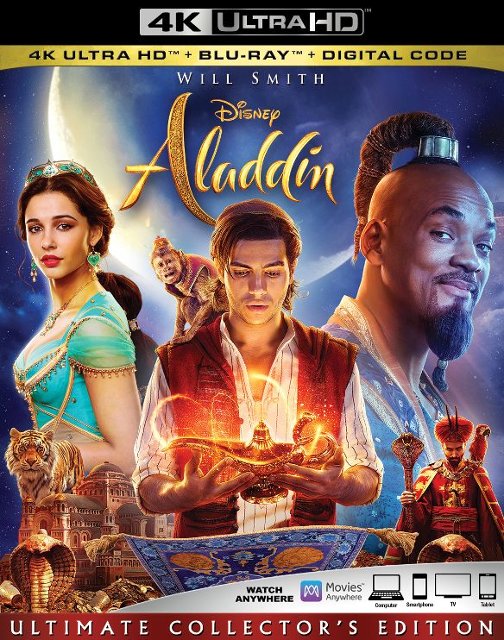 THE MOVIE:
By now most all know the story, and if they don't they need to stop reading this and watch the original classic. You may then follow up with the 2019 version of Aladdin and find some enjoyment in that as well. Ha. All kidding aside, the new film, reboot, whatever you want to call it has more to like then dislike. The world must agree as the film has surpassed a billion dollars in ticket sales. The actors did an amazing job, and while Will Smith's genie is different, it was always going to be because Robin Williams' genie was just as much Robin Williams as it was the genie character.
That being said, Will Smith did very well for the role because like the comparison to Michael Jordan. Who's the next MJ? Has Lebron surpassed him etc? Point is, there will never be another Michael Jordan. There will never be another Robin Williams genie, but there can be a Lebron James, and there can be a Will Smith genie. Will always brings charm, and top class acting and he helped many scenes carry with Mena Massoud. Kids will love the film just as much as we loved the original. I gave my son the choice to watch this or the original first and he chose the live action. Of course I made sure to follow that up with the double feature which is the 1992 classic!
VIDEO QUALITY / AUDIO QUALITY:
DISNEY'S ALADDIN comes to Ultra HD Blu-ray 4k with both High Dynamic Range and Dolby Atmos. ALADDIN has always a been a film famous for song, and the trio of actors sound amazing through my home theater environment with Dolby Atmos. (with a core 7.1 track) My living room set up with soundbar also gave off an immersive sound that tied the room together. (The Dude would be proud) My son enjoyed the flick and appeared captivated during the musical numbers. Point being, it sounds great. Visually the film bursts out the screen with different colors and palettes so it's also pure eye candy. No complaints here.
SUPPLEMENTS:
4K ULTRA HD / BLU-RAY SPECIAL FEATURES:
(the special features are all housed on the blu-ray disc.)
Aladdin's Video Journal: A New Fantastic Point of View
Deleted Song – "Desert Moon"
Guy Ritchie: A Cinematic Genie
A Friend Like Genie
Deleted Scenes
Falling Petals Into OJ
Jafar's Magic Orrery
Anders' Gift
Wrong Wishes
Silly Old Fool
Post Yam Jam Debrief
Music Video
"Speechless" – Performed by Naomi Scott
"A Whole New World" – Performed by ZAYN and Zhavia Ward
"A Whole New World" ("Un Mundo Ideal") – Performed by ZAYN and Becky G.
Bloopers
Aladdin was theatrically released in the United States on May 24, 2019. It has grossed $1 billion worldwide, becoming the fifth highest-grossing film of 2019, and the 34th highest-grossing film of all-time. The film received mixed reviews from critics, who praised the performances of Smith, Massoud and Scott, the costumes and the musical score, but criticized Ritchie's direction and the CGI effects. – wikipedia