Lock Up is a 1989 American prison drama film directed by John Flynn. It stars Sylvester Stallone, Donald Sutherland, Tom Sizemore, and John Amos. It was released in the United States on August 4, 1989.
Purchase LOCK UP on Ultra HD Blu-ray Today!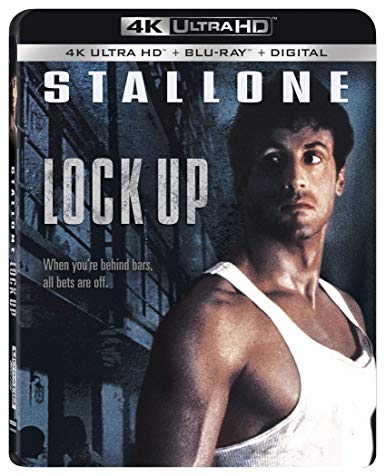 THE MOVIE:
Frank Leone is a skilled mechanic and model prisoner nearing the end of his bid in a low security prison. Out of nowhere one night guards show up and take him to a brutal maximum security prison run by Warden Drumgoole. Drumgoole explains to him he was the root of this due to a past esacpe in which Leone informed the press of the treatment of the prisoners under Drumgoole. This looked negatively on Drumgoole's career thus this retalition's backstory.
The movie ensues with Drumgoole using his power at will trying to break Leone. From here the film unravels with deaths and others threatening to rape his girlfriend in an attempt to make Frank escape again to get more years added to his sentence.
In the end Frank serves just the time he was due and a judicial inquiry is served on the warden.
VIDEO QUALITY / AUDIO QUALITY:
For a film of this age, it looks much better with Dolby Vision but lacks in the audio department with no Atmos and only a 5.1 DTS HD Master audio track. Only eh? The world we now live in, spoiled. Ha. Well at least its a remixed version. It's still better looking and sounding then any of the tv re-runs of this movie that we've seen. Never the less, a film that is already talked down upon by Sly himself still looks good and sounds well enough to appease for this part of his filmography.
SUPPLEMENTS:
4K ULTRA HD / BLU-RAY SPECIAL FEATURES
"Making of" Featurette
"About Sylvester Stallone" Featurette
Interview with Sylvester Stallone
Interview with Donald Southerland
Interview with Sonny Landham
Interview with John Amos
"Behind the Scenes" Featurette
Stallone later said it was "Not a film that was produced and performed with enough maturity to really make a significant impact on the audience or my career. And that's the truth." – wikipedia