Rambo (also known as Rambo IV and John Rambo) is a 2008 American action thriller film directed and co-written by Sylvester Stallone, who also reprises his role as Vietnam War veteran John Rambo. A sequel to Rambo III (1988) and the fourth installment in the Rambo franchise, it co-stars Julie Benz, Paul Schulze, Matthew Marsden, Graham McTavish, Rey Gallegos, Tim Kang, Jake La Botz, Maung Maung Khin, and Ken Howard.
Purchase RAMBO on Ultra HD Blu-ray Today!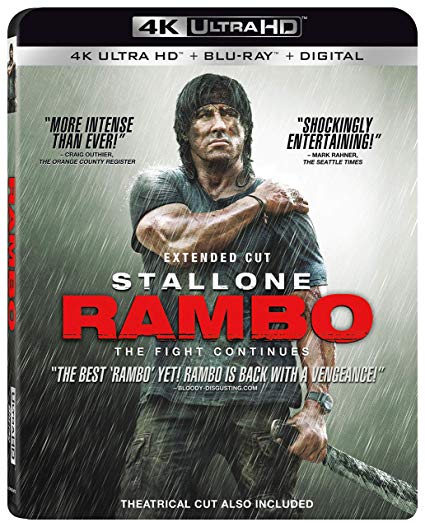 THE MOVIE:
The 4th film in the franchise RAMBO follows John Rambo as he just finished several years on the salween river in northern Thailand operating a long boat. He's confronted to carry a group of Christian missionaries into war torn Burma, he finally agrees and that is where all the action begins. The aid workers become captured by brutal Nationalist Army Soldiers and Rambo then leads a group of combat hardened mercenaries into an epic mission to rescue the prisoners come hell or high water!
VIDEO QUALITY / AUDIO QUALITY:
RAMBO comes to Ultra HD Blu-ray 4k with both Dolby Vision and Dolby Atmos. The Dolby Vision, always a favorite of mine looks great on this film while still allowing for its grit to show through at times. Deep darks, vibrant brights and good color representation of the Director's intention. The Dobly Atmos track absolutely rocks! When Rambo is on the machine gun in the back of the jeep, watch out! You might as well hide behind your couch and start ducking! Rambo fans shouldn't have many gripes here as it'll go great with the first 3 films released earlier in 4K Ultra HD Blu-ray.
SUPPLEMENTS:
4K ULTRA HD SPECIAL FEATURES:
Audio Commentary with Sylvester Stallone (Theatrical Cut Only)
"It's a Long Road: Resurrection of an Icon" Featurette
"A Score to Settle: The Music of Rambo" Featurette
"The Art of War: Completing Rambo" Multi-Part Featurette
"The Weaponry of Rambo" Featurette
"A Hero's Welcome: Release and Reaction" Featurette
"Legacy of Despair: The Real Struggle In Burma" Featurette
"Rambo: To Hell & Back" Director's Production Diary
Deleted Scenes
Theatrical Trailer
Rambo was released on January 25, 2008 to mixed reviews. It grossed $42 million in the United States and Canada and $113.2 million worldwide against a budget of $50 million. Plans for a fifth film were announced on and off again since 2008, with Stallone confirming in May 2018 a fall 2019 release date for Rambo: Last Blood. – wikipedia