Academy Award® winner* Anjelica Huston won the Los Angeles and National Society of Film Critics Best Actress awards for her marvelous work as the Grand High Witch in this enchanting fable directed by Nicolas Roeg. Jasen Fisher plays Luke, the 9-year-old boy who must foil the plans of a society of witches to turn the world's children into mice. It won't be easy: They've already transformed him into one! But some big, bad witches may be no match for the resourcefulness of a single tiny rodent.
Purchase The Witches on Blu-ray Today!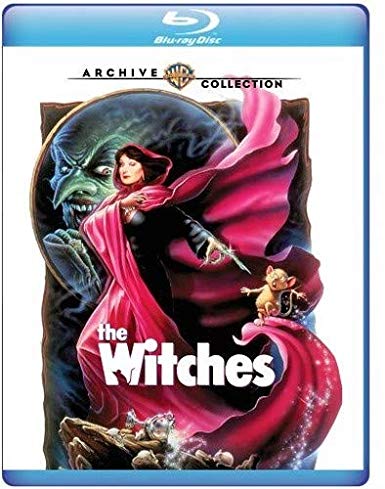 Check Out The Witches On Blu-ray Here Directly At Warner Archive
Video / Audio Quality Details:
THE WITCHES comes to blu-ray in 1080p HD from Warner Archive as part of the Warner Archive Collection on a made to order Blu-ray. The film has an audio track of DTS HD Master Audio 2.0 stereo and English subtitles SDH. Clocking in at 92 minutes this film from 1990 holds a fond spot in my heart. I remember watching this as a kid and being scared of the witches. Warner Archive has brought this with an all new HD Master and it looks lovely. Do yourself a favor and grab this one and show it off to a new generation this fall and Halloween.
The film was produced by Jim Henson Productions for Lorimar Film Entertainment and distributed by Warner Bros. as the last theatrical film to be produced by Lorimar, before the company shut down in 1993. The film was well-received by critics, but performed poorly at the box office, and was also disliked by Dahl because its ending differs from the book.