Dark Phoenix (also known as X-Men: Dark Phoenix) is a 2019 American superhero film based on the Marvel Comics X-Men characters, produced by 20th Century Fox and distributed by Walt Disney Studios Motion Pictures. It is the twelfth installment of the X-Men film series, and the sequel to 2016's X-Men: Apocalypse. The film is written and directed by Simon Kinberg (in his feature directorial debut) and stars an ensemble cast.
Purchase X-MEN DARK PHOENIX on Ultra HD Blu-ray Today!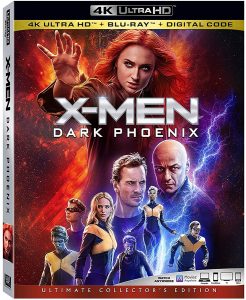 THE MOVIE:
X-Men Dark Phoenix marks the 12th installment in the series and the last movie we'll be getting from Fox for this franchise. Many stories were wrapped up, but an out of pace mesh with the action also lead to many unfavorable reviews. Never the less there is still plenty to enjoy for true X-Men fans, but it's at the bottom of the list in your lower half of X-men films depending on your taste. Either way as a fan with so much invested in the franchise I had to watch this and thus I found enjoyment in many parts but recognize the gaps and pace as a whole.
VIDEO QUALITY / AUDIO QUALITY:
X-MEN DARK PHOENIX comes to 4k Blu-ray with UHD HDR10+ and a dolby atmos track. Both of which are stellar and feature super dark blacks and very vibrant brights. For a film not particularly liked the VQ and AQ sure do look and sound fantastic.
SUPPLEMENTS:
Deleted Scenes with Optional Commentary by Simon Kinberg and Hutch Parker:
— Edwards Air Force Base
— Charles Returns Home
— Mission Prep
— Beast MIA
— Charles Says Goodbye
Rise of the Phoenix: The Making of Dark Phoenix (5-Part Documentary)
Scene Breakdown: The 5th Avenue Sequence
How to Fly Your Jet to Space with Beast
Audio Commentary by Simon Kinberg and Hutch Parker
Commentary is available on the Blu-ray, iTunes Extras and Movies Anywhere only, while you'll only find the Scene Breakdown feature on the Digital release.
Dark Phoenix was theatrically released in the United States on June 7, 2019. It grossed $252 million worldwide on a $200-million budget and became the lowest-grossing installment in the series. It received generally unfavorable reviews from critics with opinions being various; many felt that the emotional story held intrigue but was lost in favor of action, and some viewed it as a disappointing and anticlimactic conclusion to the Fox X-Men series, though the performances of the cast and Hans Zimmer's score were praised. – wikipedia