Yesterday is a 2019 romantic comedy film directed by Danny Boyle and written by Richard Curtis, based on a story by Jack Barth and Curtis. It stars Himesh Patel as struggling musician Jack Malik, who, after an accident, finds himself the only person who remembers the Beatles and becomes famous after taking credit for their songs.
Purchase YESTERDAY on Ultra HD Blu-ray Today!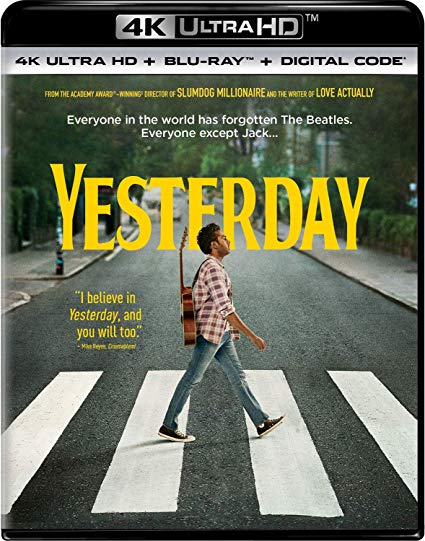 THE MOVIE:
The film tells the story of Jack Malik who was a struggling songwriter, but that was YESTERDAY. A black out happens and Jack finds out that he is the only person on earth who remembers The Beatles! Soon after Jack passes off the songs as his own and skyrockets to fame all the while possibly losing the love of his life Ellie who has believed in him from the jump. Himesh Patel and Lily James perform wonderfully on screen while Kate McKinnon and Ed Sheeran also co-star in this rock n roll comedy directed by Danny Boyle.
VIDEO QUALITY / AUDIO QUALITY:
YESTERDAY comes to Ultra HD Blu-ray 4k with the video transfer coming in at HDR10+ and a Dolby Atmos audio track. Both provide visual and audio bliss. A film that has such hits as this one it's nice that we get the Dolby Atmos track that we need at its core a 7.1. You wont find any complaints in both departments.
SUPPLEMENTS:
Alternate Ending
Deleted Scenes
Late for School
Nutters Italian Ice Cream
Sortisimus
Moscow Audience
Alexa
A Gonk
W Hotel
Jack Calls Ellie
Corden & Roxanne
Hilary in the Mirror
Nick and Carol
Hazel's Selfie
Live at Abbey Road Studios
"Yesterday"
"I Want to Hold Your Hand"
"Let It Be"
Alternate Opening
Gag Reel
A Talented Duo
Playing for Real
Soul Mates
Ed Sheeran: From Stadium to Screen
Agent of Comedy: Kate McKinnon
A Conversation with Richard & Ed
Feature Commentary with Director Danny Boyle and Writer/Producer Richard Curtis
The filmmakers paid $10 million for the rights to use the Beatles' music. The film grossed $142 million worldwide against a production budget of $26 million, and received mixed reviews from critics, with praise for the premise, performances and musical sequences, but criticism of the familiarity and not taking the concept further. – wikipedia