Gremlins is a 1984 American comedy horror film directed by Joe Dante and released by Warner Bros. The film is about a young man who receives a strange creature called a mogwai as a pet, which then spawns other creatures who transform into small, destructive, evil monsters.
Purchase GREMLINS on Ultra HD Blu-ray Today!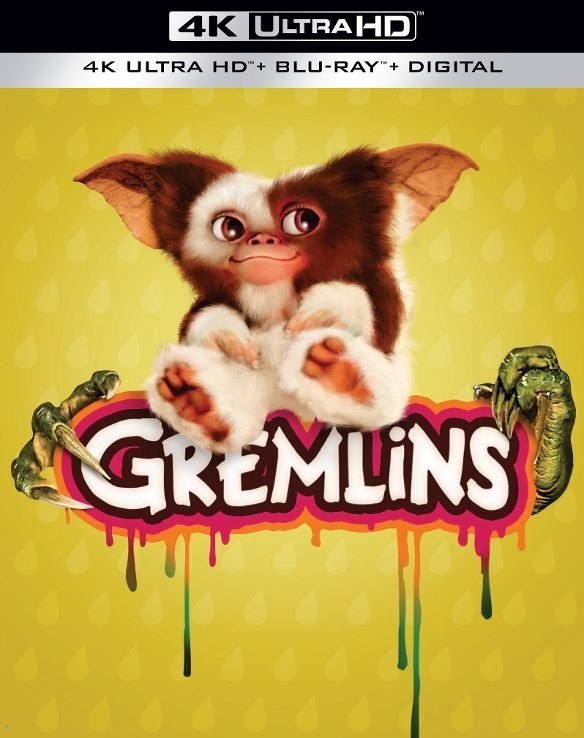 THE MOVIE:
A gadget salesman is looking for a very special gift for his son and finds one at a store in Chinatown. The shopkeeper is reluctant to sell him the `mogwai' but sells it to him with the warning to never expose him to bright light, water, or most importantly to feed him after midnight. All of this happens and the result is a gang of gremlins that decide to tear up the town on Christmas Eve.
VIDEO QUALITY /AUDIO QUALITY:
Gremlins comes to Ultra HD Blu-ray 4k with HDR10 and looks very good for this film that was originally shot on 35mm. Never the less no dynamic metadata and only a DTS HD Master 5.1 audio track that while does the trick still leaves a bit to be desired.
SUPPLEMENTS:
Gremlins Ultra HD Blu-ray contains the following special features:
Filmmakers' Commentary with Director Joe Dante, Producer Michael Finnell and Special Effects Artist Chris Walas
Cast Commentary with Director Joe Dante, Zack Galligan, Phoebe Cates, Dick Miller, and Howie Mandel
Gremlins: Behind the Scenes Featurette
Additional Scenes with Commentary
Photo Gallery
Theatrical Trailers
Additional Scenes
Cute. Clever. Mischievous. Intelligent: Making Gremlins
Gremlins: The Gift of the Mogwai (motion comic)
The Last Gremlin (motion comic)
From Gizmo to Gremlins: Creating the Creatures
Hangin' with Hoyt on the set of Gremlins
Despite being a critical and commercial success, the film was heavily criticized for some of its more violent sequences. In response to this and to similar complaints about Indiana Jones and the Temple of Doom, Spielberg suggested that the Motion Picture Association of America (MPAA) alter its rating system, which it did within two months of the film's release, creating a new PG-13 rating. – wikipedia