The Addams Family is a 1991 American supernatural black comedy film based on the characters from the cartoon created by cartoonist Charles Addams and the 1964 TV series produced by David Levy. The film stars Anjelica Huston, who was nominated for a Golden Globe for her performance as Morticia Addams, Raul Julia as Gomez Addams, Christina Ricci as Wednesday Addams, Judith Malina as Grandma Addams, and Christopher Lloyd as Uncle Fester.
Purchase The Addams Family/Addams Family Values on Blu-ray Today!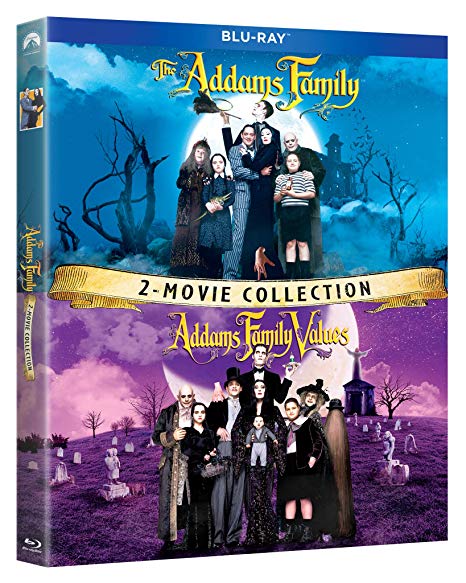 THE MOVIE:
The film focuses on a bizarre, macabre, aristocratic family who reconnect with who they believe to be a long-lost relative, Gomez's brother, Fester Addams.
Come join The Addams Family for a scarefest When long-lost Uncle Fester (Christopher Lloyd) reappears after twenty-five years in the Bermuda Triangle, Gomez (Raul Julia) and Morticia (Anjelica Huston) plan a celebration to wake the dead. Wednesday (Christina Ricci) and Thing notice Fester's uncommonly "normal" behavior.
In the Addams Family Values Joan Cusack plays a serial killer who marries Uncle Fester (Lloyd) intending to murder him for his inheritance, while teenagers Wednesday (Ricci) and Pugsley (Workman) are sent to summer camp. Included in the soundtrack is "Supernatural Thing", which was a chart success for Ben E. King.
VIDEO QUALITY / AUDIO QUALITY:
The Addams Family 2 movie collection comes to Blu-ray both accompanying a 5.1 DTS HD Master audio track. Additionally both films feature French and Spanish audio as well. The 5.1 DTS Track does the film well, but lacks the punch that a true Atmos track would deliver.
SUPPLEMENTS:
Special Features and Extras — The Addams Family
SD Trailers (1:21 and 1:28)
Special Features and Extras — Addams Family Values
None
Addams Family Values is a 1993 American comedy film, the sequel to The Addams Family (1991). It was written by Paul Rudnick and directed by Barry Sonnenfeld, and features many cast members from the original – wikipedia