Popeye and Olive travel back to prehistoric times, ancient Greece and the Sherwood Forest. They visit Plymouth Rock and the Old West, then battle assorted baddies in the Egyptian desert, the freezing Arctic and the Ozarks. Of course, Bluto is back as Popeye's number-one nemesis, tackling the sailor man as a rival lumberjack, a fanatic flying ace and a lecherous vaudeville hypnotist.
Purchase Popeye The Sailor Volume 3 on Blu-ray Today!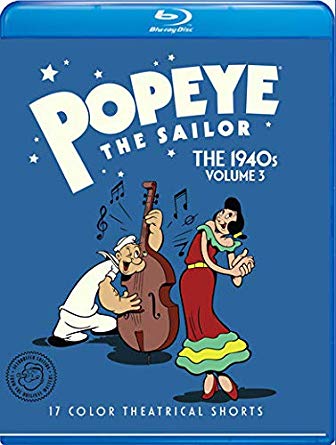 Check Out Popeye the Sailor Volume 3 on On Blu-ray Here Directly At Warner Archive
Video / Audio Quality Details:
POPEYE THE SAILOR 1940s VOLUME 3 comes to blu-ray in 1080p HD from Warner Archive as part of the Warner Archive Collection on a made to order Blu-ray. The film has an audio track of DTS HD Master Audio 2.0 mono and English subtitles SDH. Clocking in at 121 minutes this film from the 1940s has received much love. It's a truly classic visual treat.
The Polacolor process was a short-lived 3-strip technique designed to be an alternative to Technicolor®. The studio gave it a try on a group of cartoons produced during this period, and the results are particularly striking – with fresh restorations that now show their proper, vibrant hues. The cartoons have been restored to look their lavish best utilizing the techniques of three classic color systems.
Hilarious sight gags, gorgeous cartoon art and more action-packed goodness from the golden age of animation