Boxing Wednesdays. Wrestling on Fridays. Stoker Thompson is on Paradise City's Wednesday card, fighting after the main event. He's been 20 years in the game and is sure he's just one punch away from big paydays. But there's one thing Stoker doesn't yet know: his manager wants him to take a dive tonight.
Purchase THE SET-UP on Blu-ray Today!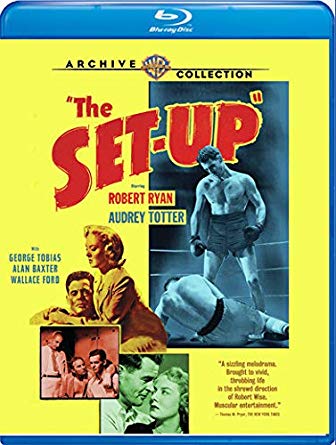 Check Out The Set-up on On Blu-ray Here Directly At Warner Archive
Video / Audio Quality Details:
THE SET-UP comes to blu-ray in 1080p HD from Warner Archive as part of the Warner Archive Collection on a made to order Blu-ray. The film has an audio track of DTS HD Master Audio 2.0 mono and English subtitles SDH. Clocking in at 72 minutes this film from 1949 has received its best transfer yet. It's a truly classic visual treat.
The Set-Up comes out swinging as one of the great films about the so-called sweet science. Robert Wise directs, shaping real-time events into an acclaimed and unsparing film-noir look at the stale-air venues, bloodthirsty fans, ring savagery and delusional dreams of boxing's palooka world. Robert Ryan embraces perhaps his fi nest screen hour as Stoker. Audrey Totter, an icon of the noir genre like Ryan, plays Stoker's steadfast wife. In a sport that would take their last flicker of dignity, the Thompsons are reclaiming theirs.
The Set-Up was the last film Wise made for RKO, and he named it his favorite among the pictures he directed for the studio, as well as one of his top ten during his entire career.