CRAWL is a 2019 American disaster survival horror film directed by Alexandre Aja and written by Michael and Shawn Rasmussen. It stars Kaya Scodelario and Barry Pepper as a daughter and father, who along with their dog are hunted by alligators after becoming trapped in their home during a Category 5 hurricane.
Own CRAWL on Blu-ray and DVD on October 15th.
THE MOVIE: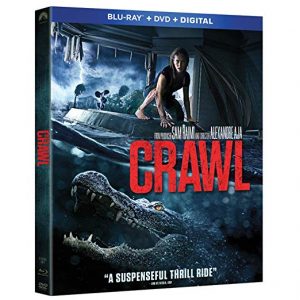 CRAWL features a family that has been through some troubled times. Death and financial struggles have been on this family for a few years. The film follows Haley ( Kaya Scodelario) who is a competitive swimmer that is going to check on her father who has went radio silent at the beginning of a category five hurricane. A hurricane that is scheduled to go right through where her father lives.
After finding her father Dave (Barry Pepper) injured and unresponsive, down in the flooded basement at the families old home she discovers there is more than just a hurricane fighting against them. Haley discovers that there are gigantic alligators stopping them from leaving the basement.
Overall, this film was a lot more fun than I was expecting it to be. The father/daughter bond between the two actors was very believable. The CGI in the alligators was very well done and they defiantly creeped out and scared the audience a few times.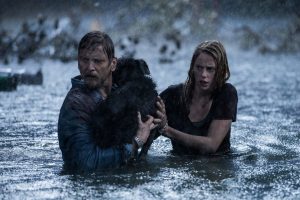 VIDEO/AUDIO QUALITY:
The video is a 1080p quality is really great considering how dark the film is overall. The majority of the film takes place in a dark basement area and in muggy weather. So the film makers didn't have the bright sun or lights to make the scenes. But they were able to display every character and the alligators very clear and sharp throughout the film when needed.
The sound was also up to par with what to expect. The dialogue had to fight against major winds and echoing sounds from the basement but overall the sounds were clear.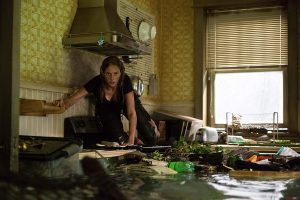 SUPPLEMENTS:
Bonus Features:
Intro to Alternate Opening
Alternate Opening
Deleted and Extended Scenes
Beneath Crawl
Category 5 Gators: The VFX of Crawl
Alligator Attacks
Disc Details:
Blu-ray
DVD
Digital copy
Running Time:
87 min.
Edition Ratings:
Rated R
Region Coding:
Region A (B,C untested)
Video Resolution:
Resolution: 1080p
Aspect ratio: 2.39:1
Audio Mixes:
English (Dolby Digital 5.1)
Spanish, French, Japanese, Portuguese, Thai
Subtitles:
English, French, Japanese, Portuguese, Spanish, Cantonese, Hindi, Korean, Malay, Mandarin, Thai