NIGHT HUNTER is a 2018 Canadian-American psychological thriller film written and directed by David Raymond. The film stars Henry Cavill, Ben Kingsley, Alexandra Daddario, and Stanley Tucci, with Brendan Fletcher, Minka Kelly, and Nathan Fillion in supporting roles.
Own NIGHT HUNTER on Blu-ray and DVD on October 15th.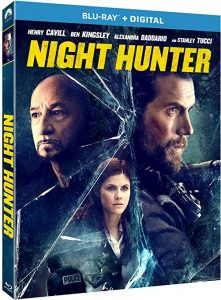 THE MOVIE:
NIGHT HUNTER is a psychological/thriller film that features Marshall (Henry Cavill), a police Lieutenant that is investigating the kidnapping of a young teenage girl named Lara (Eliana Jones). The guardian and associate of this missing girl is Cooper (Ben Kingsley), a local vigilante that takes the punishment of child sex predators into his own hands.
After finding the person that kidnapped Lara and plenty other girls who turns out to be named Simon (Brendan Fletcher). Simon is eventually linked too many other kidnappings and murders due to various amounts of DNA on his property. While Rachel (Alexandra Daddario) begins to interrogate Simon a few more secrets begin to unravel. But that is the just the beginning of Simon's story.
Overall, the movie is a nice psychological/thriller watch that reminds me of movies such as "Seven". With stars such as Cavill, Kingsley, and Daddario at the helm of this film I'm shocked it didn't get a stronger studio release. The acting from Brendan Fletcher and Henry Cavill were by far the show stealers.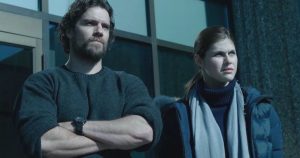 VIDEO/AUDIO QUALITY:
The video is a 1080p quality is appropriate for a film like NIGHT HUNTER. Most of the movie took place in well lit rooms. There were a few scenes that took place in the dark but the 1080p quality didn't suffer.
The sound was and tones of the film were also up to par. The dialogue was very clear and the themes used during suspenseful moments were heard very well. No complaints in the sound department.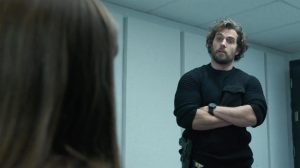 SUPPLEMENTS:
Bonus Features:
None
Disc Details:
Blu-ray
Digital Copy
Running Time:
99 min.
Edition Ratings:
Rated R
Region Coding:
Region A (B,C untested)
Video Resolution:
Resolution: 1080p
Audio Mixes:
English (Dolby Digital 5.1)
Subtitles:
English
Spanish
https://youtu.be/ZxIanAd-S-o