Red Heat opened in Los Angeles and New York on June 17, 1988. It was distributed by TriStar Pictures. It grossed $35 million in the US.
Purchase RED HEAT on Ultra HD Blu-ray Today!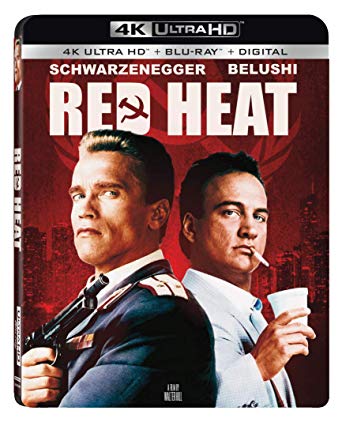 THE MOVIE:
Red Heat is a 1988 American buddy cop action film directed by Walter Hill. The film stars Arnold Schwarzenegger, as Moscow Militia Captain Ivan Danko, and Jim Belushi, as Chicago detective Art Ridzik. Finding themselves on the same case, Danko and Ridzik work as partners to catch a cunning and deadly Georgian drug kingpin, Viktor Rostavili (Ed O'Ross), who also happens to be the killer of Danko's previous partner back in Soviet Russia.
VIDEO QUALITY / AUDIO QUALITY:
RED HEAT comes to Ultra HD Blu-ray with a DTS HD Master 5.1 audio track that fits the old film well. The video quality looks great for this film coming with Dolby Vision that provides some good depth to a transfer that at times definitely shows it's age.
Audio Format(s): English 5.1 DTS-HD MA, Latin American Spanish Stereo DTS-HD MA
Subtitles: English, English SDH, Latin American Spanish
SUPPLEMENTS:
Arnold Schwarzenegger – The Man Who Raised Hollywood (SD, 15:36)
Political Context of Red Heat (HD, 9:54)
East Meets West (SD, 9:38)
A Stunt Man for All Seasons (SD, 12:24)
I'm Not Russian, But I Play One on TV (SD, 5:11)
Making Of (SD, 18:35)
Original Trailer (SD, 2:13)
The film opened at the top spot at the box office, but was far outpaced by Schwarzenegger's other comedy film in 1988, Twins. Schwarzenegger later wrote the film "wasn't the smash I'd expected. Why is hard to guess. It could be that audiences were not ready for Russia, or that my and Jim Belushi's performances were not funny enough. – wikipedia