From Beyond the Grave is a 1974 British anthology horror film from Amicus Productions, directed by horror director Kevin Connor, produced by Milton Subotsky and based on stories by R. Chetwynd-Hayes.
Purchase FROM BEYOND THE GRAVE on Blu-ray Today!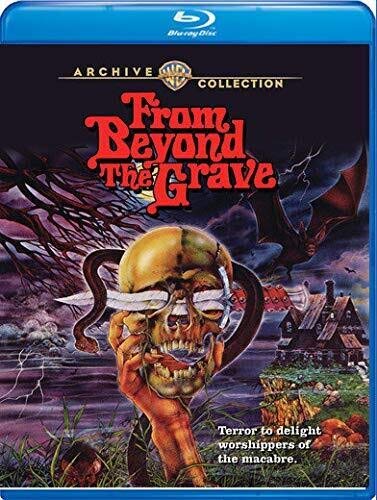 Check Out FROM BEYOND THE GRAVE on On Blu-ray Here Directly At Warner Archive
Video / Audio Quality Details:
FROM BEYOND THE GRAVE comes to blu-ray in 1080p HD from Warner Archive as part of the Warner Archive Collection on a made to order Blu-ray. The film has an audio track of DTS HD Master Audio 2.0 mono and English subtitles SDH. Clocking in at 98 minutes this film from 1973 has received excellent care. Visually it shows its age at times but still looks stellar.
Bolt the door, lower the lights and settle in for a stylish five-episode supernatural shocker possessed of a shivery all-star cast and drenched in evil. Welcome to Temptations Ltd., a decrepit antique shop whose unwary customers get more than they bargain for from the wily proprietor (Peter Cushing). Much more. Go to the head of the horror class if you can predict who'll join the ranks of the doomed from among this role call of distinguished British actors: Ian Bannen, Ian Carmichael, Diana Dors, Lesley-Anne Down, Margaret Leighton, Donald Pleasence, Nyree Dawn Porter, David Warner and more. A mirror. A medal. A snuff box. An ornate door. All unleash novelty surprises for the characters – and you – in these wickedly horrific tales From Beyond the Grave.
It was the last in a series of anthology films from Amicus and was preceded by Dr. Terror's House of Horrors (1965), Torture Garden (1967), The House That Dripped Blood (1970), Asylum (1972), Tales from the Crypt (1972) and The Vault of Horror (1973).