The Fearless Vampire Killers, or Pardon Me, But Your Teeth Are in My Neck (shortened to The Fearless Vampire Killers; originally released in the UK as Dance of the Vampires) is a 1967 horror comedy film directed by Roman Polanski, written by Gérard Brach and Polanski, produced by Gene Gutowski and starring Polanski with his future wife Sharon Tate, along with Jack MacGowran and Alfie Bass, and featuring Ferdy Mayne.
Purchase THE FEARLESS VAMPIRE KILLERS on Blu-ray Today!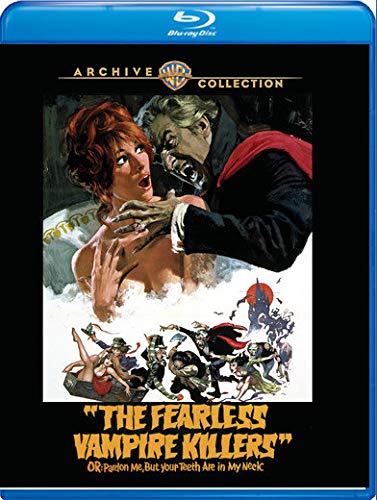 Check Out THE FEARLESS VAMPIRE KILLERS on On Blu-ray Here Directly At Warner Archive
Video / Audio Quality Details:
THE FEARLESS VAMPIRE KILLERS comes to blu-ray in 1080p HD from Warner Archive as part of the Warner Archive Collection on a made to order Blu-ray. The film has an audio track of DTS HD Master Audio 2.0 mono and English subtitles SDH. Clocking in at 107 minutes this film from 1966 has received its best transfer yet. Warner Archive have brought to us a new 2019 HD remaster of Polanski's original cut, along with most extras from the DVD release and the addition of the US animated prologue. In regards to this film, they've went above and beyond!
The Fearless Vampire Killers was Polanski's first feature to be photographed in color using a widescreen 2.35:1 aspect ratio. The film is also notable in that it features Polanski's love of winter sports, particularly skiing.