Don't Be Afraid of the Dark is an American made-for-television dark fantasy film directed by John Newland and starring Kim Darby and Jim Hutton. It was released by Lorimar Productions and was first telecast on ABC on Wednesday October 10, 1973 during the ABC Movie of the Week. It has since been shown many times in syndication and was distributed
Purchase DON'T BE AFRAID OF THE DARK on Blu-ray Today!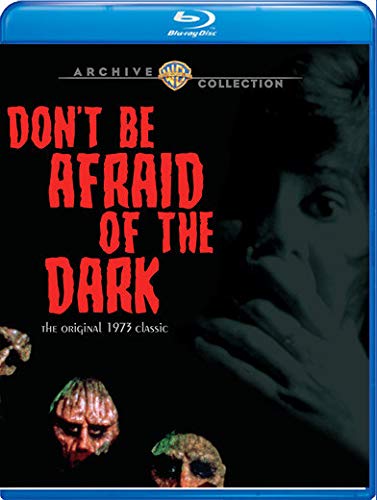 Check Out DON'T BE AFRAID OF THE DARK on On Blu-ray Here Directly At Warner Archive
Video / Audio Quality Details:
DON'T BE AFRAID OF THE DARK comes to blu-ray in 1080p HD from Warner Archive as part of the Warner Archive Collection on a made to order Blu-ray. The film has an audio track of DTS HD Master Audio 2.0 mono and English subtitles SDH. Clocking in at 74 minutes this film from 1973 the film that spawned the remake from a few years back starring Katie Holmes has never looked better. Also accompanying this new blu-ray is a new Audio Commentary by Amanda Reyes that is very insightful.
An old house…a mysterious locked room…a terrifying secret. Elements that make a horror movie memorably chilling get a taut, spooky reworking in Don't Be Afraid of the Dark. Kim Darby (True Grit)and Jim Hutton (The Green Berets) star as Sally and Alex, young marrieds who inherit a crumbling mansion. Despite warnings to leave well enough alone in her new home, Sally unlocks the mysterious room, opens a bricked-up fireplace…and unleashes a horde of hideous whispering, murdering minidemons only she can see and hear. This is the original TV movie that inspired the 2010 theatrical movie starring Katie Holmes and Guy Pearce.
Miramax Films produced a remake of the film as a theatrical feature, released on August 26, 2011. The remake stars, Bailee Madison, Katie Holmes and Guy Pearce, and was produced and co-written by Guillermo del Toro. The remake marks the directorial debut of comic book artist-writer Troy Nixey.