Days of Wine and Roses is a 1962 drama film directed by Blake Edwards with a screenplay by JP Miller adapted from his own 1958 Playhouse 90 teleplay of the same name.
Purchase DAYS OF WINE AND ROSES on Blu-ray Today!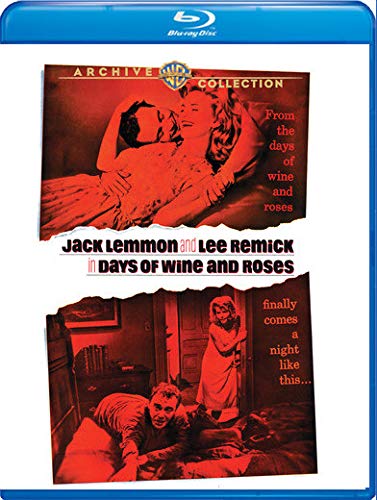 Check Out DAYS OF WINE AND ROSES on On Blu-ray Here Directly At Warner Archive
Video / Audio Quality Details:
DAYS OF WINE AND ROSES comes to blu-ray in 1080p HD from Warner Archive as part of the Warner Archive Collection on a made to order Blu-ray. The film has an audio track of DTS HD Master Audio 2.0 mono and English subtitles SDH. Clocking in at 117 minutes this black and white film from 1962 has received a beautiful transfer. This highly decorated film chosen for preservation for its cultural significance looks stunning and sounds well enough for its age as well. Two thumbs up.
When Blake Edwards' powerful film of J.P. Miller's heartrending teleplay Days of Wine and Roses hit movie screens, it won critical raves and box-office success and shone brightly as a career highlight for its two Oscar®-nominated stars, Jack Lemmon and Lee Remick, who play a couple caught in alcoholism's web. A San Francisco public-relations hotshot is a "social" drinker…who never stops socializing. His vivacious wife starts drinking to keep him company. They live for good times. But eventually good times turn bad. Days of Wine and Roses earned a total of five Academy Award® nominations and a 1962 Best Song Oscar® for its haunting Henry Mancini/Johnny Mercer title tune. A poignant, harrowing portrait of human lives at their lowest, it also reflects filmmaking at its height.
An Academy Award went to the film's theme music, composed by Mancini with lyrics by Johnny Mercer. The film received four other Oscar nominations, including Best Actor and Best Actress. In 2018, Days of Wine and Roses was selected for preservation in the United States National Film Registry as being "culturally, historically, or aesthetically significant."