Mr. Nice Guy features a collaboration between Chan and Norton, reuniting them for the first time since 1993's City Hunter and also Chan and director Hung had worked in the 1985's Twinkle, Twinkle Lucky Stars. Set in Melbourne, Australia, it is Chan's first film to be scripted and shot in English.
Purchase MR. NICE GUY on Blu-ray Today!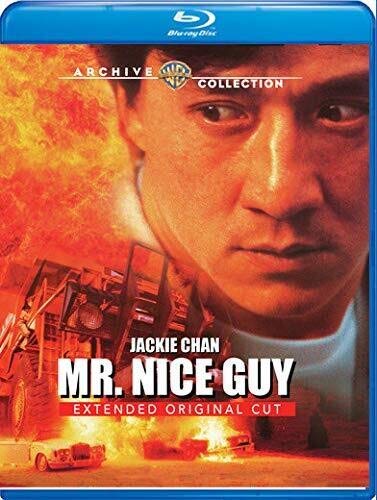 Check Out MR. NICE GUY on On Blu-ray Here Directly At Warner Archive
Video / Audio Quality Details:
MR. NICE GUY comes to blu-ray in 1080p HD from Warner Archive as part of the Warner Archive Collection on a made to order Blu-ray. The film has an audio track of DTS HD Master Audio 5.1 and English subtitles SDH. Clocking in at 97 minutes (extended cut) this film from 1996/1997 has received its best treatment yet. Warner Archive's is including the extended original cut and new uncut version in newly remastered HD sourced from the original 4K camera negative scans in addition to the original New Line cut.
Special Features and Technical Specs: BRAND NEW 4K REMASTER OF THE EXTENDED ORIGINAL CUT OF THE FILM (97 MIN). New Line Cinema Version with Alternate Audio Mix/Alternate Musical Score/Alternate Cut IN high-definition (87 Minutes) International Theatrical Trailer
Synopsis: He chops, he dices, he purees! Jackie Chan has the recipe for delicious action-comedy entertainment when he plays a celebrity TV chef caught in a deadly dispute between rival Australian crime lords.
With Chan in the kitchen, you know there'll be more pow! than kung pao, and the irrepressible star does not disappoint. Take a look at the in-one-door, out-the-other fight sequence staged at a construction site and you'll discover what we mean. Just when you think you've seen it all, along comes Chan with something new. Then something newer. The breathtaking, lightning-quick fun and excitement just might have you shouting, "Nice kick! Nice spin! Nice move!" He is, after all, Mr. Nice Guy.
In North America, Mr. Nice Guy was released by New Line Cinema on 20 March 1998 in 1,463 theatres. In its opening weekend, it grossed US $5,250,704 ($3,588 per screen) on its way to a total of US $12,716,953.