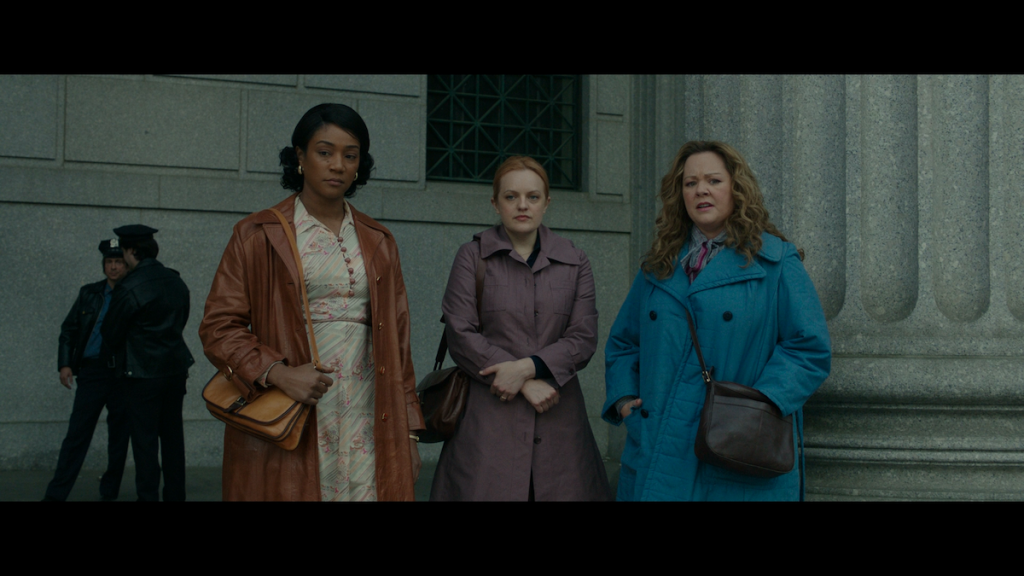 In 1978 in Hell's Kitchen, there are three women who are married to members of the Irish Mob. Kathy is married to Jimmy, Ruby is married to Jimmy, and Claire is married to Rob.
The husbands are arrested and sentenced to three years in prison. Little Jackie is put in charge and he tells the wives that he will take care of them but it just isn't enough. The start their own collection racket in the neighborhood from the local businesses. Jackie is taken out and now the ladies run Hell's Kitchen but a cost.
, making a profit and becoming beloved in the community. When Jackie finds out, he goes after the women, but is killed by Gabriel O'Malley, a former Irish mob enforcer called in by Ruby. With Jackie out of the way, and Gabriel as their enforcer, the women begin running the neighborhood and Gabriel and Claire begin a relationship.
THE KITCHEN is directed by Andrea Berloff. This is her directorial debut but she has some writing credits on STRAIGHT OUTTA COMPTON and WORLD TRADE CENTER. It is based on the DC Vertigo Comic Miniseries of the same name Ollie Masters and Ming Doyle. This is one of those comic book movies without the tights and capes and based on some good storytelling. The time period feels spot on and has the aesthetic of an early Scorsese film. The movie itself is entertaining and its nice to see both McCarthy and Haddish doing much more serious characters.
Cast
Melissa McCarthy – Kathy Brennan
Tiffany Haddish – Ruby O'Carroll
Elisabeth Moss – Claire Walsh
Domhnall Gleeson – Gabriel O'Malley
Brian d'Arcy James – Jimmy Brennan O'Carroll
Jeremy Bobb – Rob Walsh
Bill Camp – Alfonso Coretti
Margo Martindale – Helen O'Carroll
Common – Gary Silvers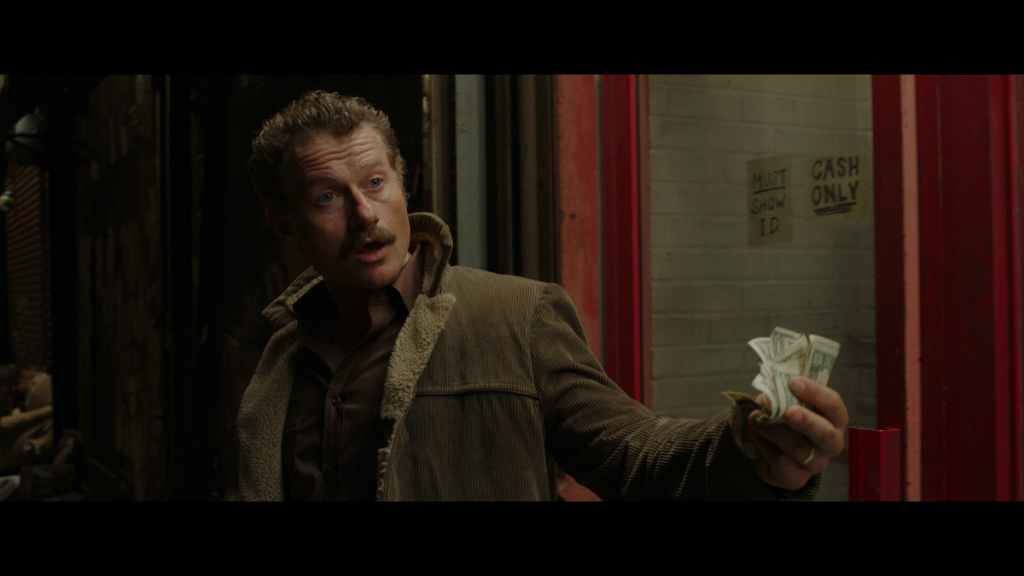 VIDEO QUALITY:
The video is a 1080p AVC presentation that looks excellent. Colors begin in a drab and muted look to show the period of Hell's Kitchen in the late 1970s. There are a lot of browns used in the clothing and the color brightens up as things begin to get better for the ladies. There are some bold choices when there is a night shot with neon or the red blood that isn't muted at all. Details in the skin help to show how these housewives don't get to take care of themselves. There is a decent amount of CGI to make the city look right but because of the clarity from the film, it stands out. Skin tones are also start off on the cooler side but then they warn naturally.
AUDIO QUALITY:
The audio is a DTS-HD Master Audio 5.1 mix that works very hard. There is a lot of atmospheric sound from the busy city that is the backdrop in most of the scenes. Scenes are also in bars and other crowded areas to make for a lively mix. There is also a lot of incredible music that makes up the soundtrack and sounds clean. The dialogue has been prioritized with the other effects and music.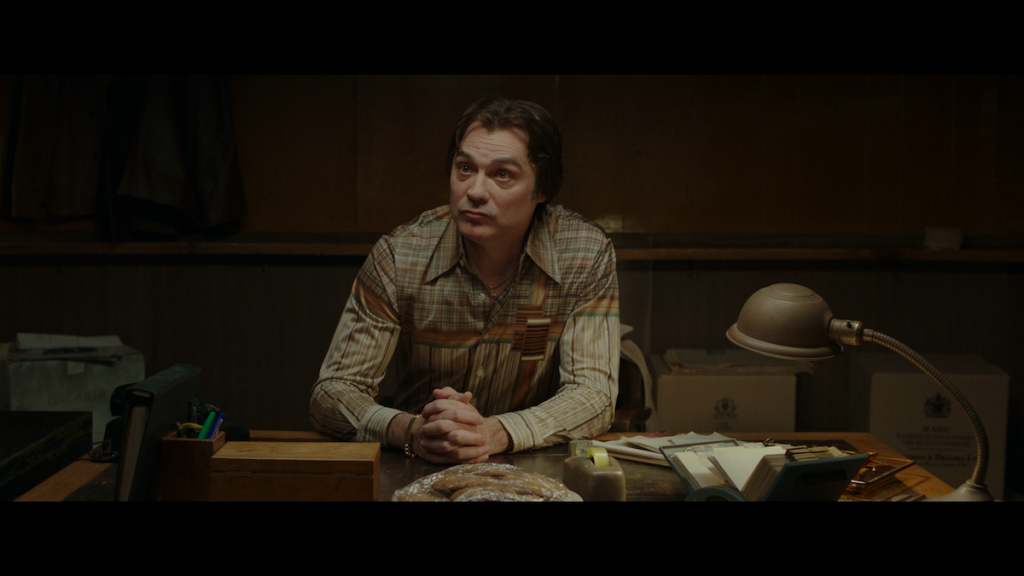 SUPPLEMENTS & PACKAGING
-Running Hell's Kitchen:
This is an extra with director Andrea Berloff, producer Michael DeLuca, comic writer Ollie Masters, comic artist Ming Doyle, Melissa McCarthy, Elizabeth Moss plus a few other people speak about the comic that the movie is based on as well as the production.
-Taking Over the Neighborhood:
This is a short extra about creating the look for the movie.
-Deleted Scene
Disc Details
1 Blu-ray Disc
Digital Copy
Running Time
102 mins
Edition Ratings
R
Region Coding
Region Free
Video Resolution
1080p AVC MPEG-4
Aspect ratio: 2.40:1
Audio Mixes
English DTS-HD Master Audio 5.1
Spanish Dolby Digital 5.1
Subtitles
English SDH
French SDH
Portuguese
Spanish SDH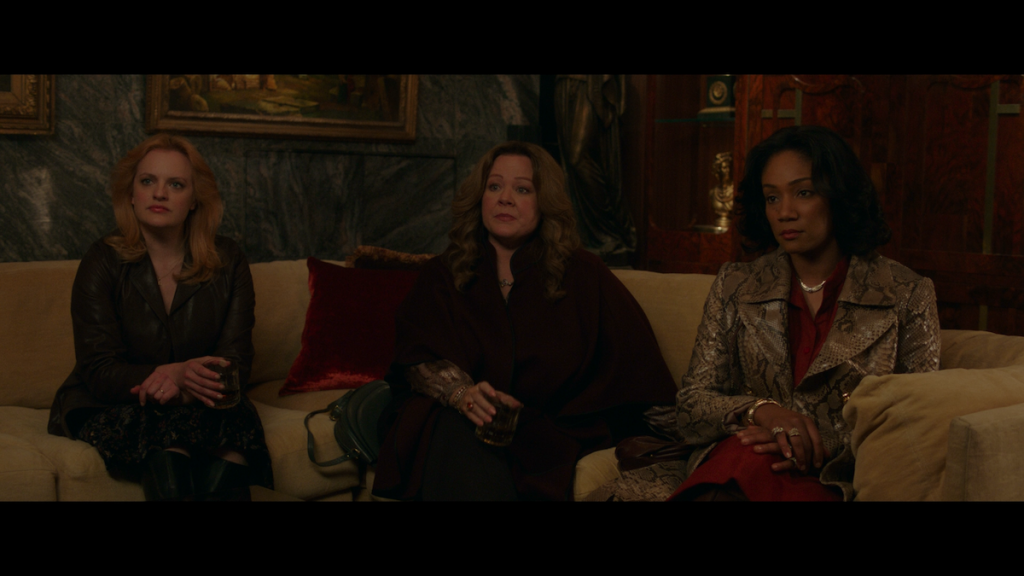 THE BOTTOM LINE:
THE KITCHEN seems like it has some budgetary concerns and then had a tough time at the box office. They made about less than half of the budget back in ticket sales. This is probably why there is no 4k release and a release on the bare side. The audio and video have been well authored but there could stand to be more extras included. I can say to at least check it out for yourself.