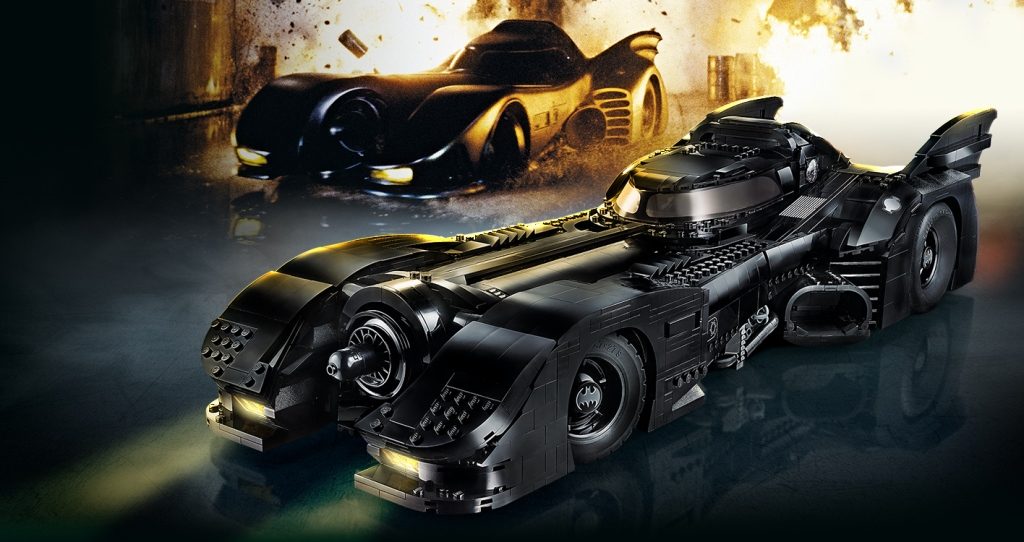 Today the LEGO Group announced that they have teamed up with DC to celebrate the 30th anniversary of Tim Burton's iconic Batman movie with the reveal of an incredible 3,300 piece 1989 Batmobile.

Launching on Black Friday (November 29) the Batmobile comes packed full of authentic features from the classic movie including the slide-open cockpit with a new wraparound windshield, 2 hidden machine guns with a pop-up function activated by turning the turbine exhaust, wheel trims with the Bat logo and specially designed tires for the front wheels, and decorative grappling hooks on each side of the vehicle. Any fan of the classic movie will appreciate the design of this set as it perfectly replicates the classic curves and authentic features of this famous iteration of the Batmobile.
The Batmobile set also comes with a rotating display stand with an attached information plate providing 1989 Batmobile statistics for ease of viewing from any angle. Included in the set are three minifigures—Batman with a cape that matches his 1989 movie outfit, The Joker™ and Vicki Vale™—plus a brick-built minifigure display stand.

Fans can purchase the set HERE when it goes live on November 29!
1989 Batmobile™ (76139)
3,306 pieces
US $249.99 – CA $299.99 – DE €249.99 – UK £219.99 – FR €249.99 – DK 1899DKK
*Euro pricing varies by country. Please visit shop.LEGO.com for regional pricing.
Additionally fans who purchase the set between November 29 and December 5 will receive an exclusive mini replica of the original model as a free gift (available in limited quantities).