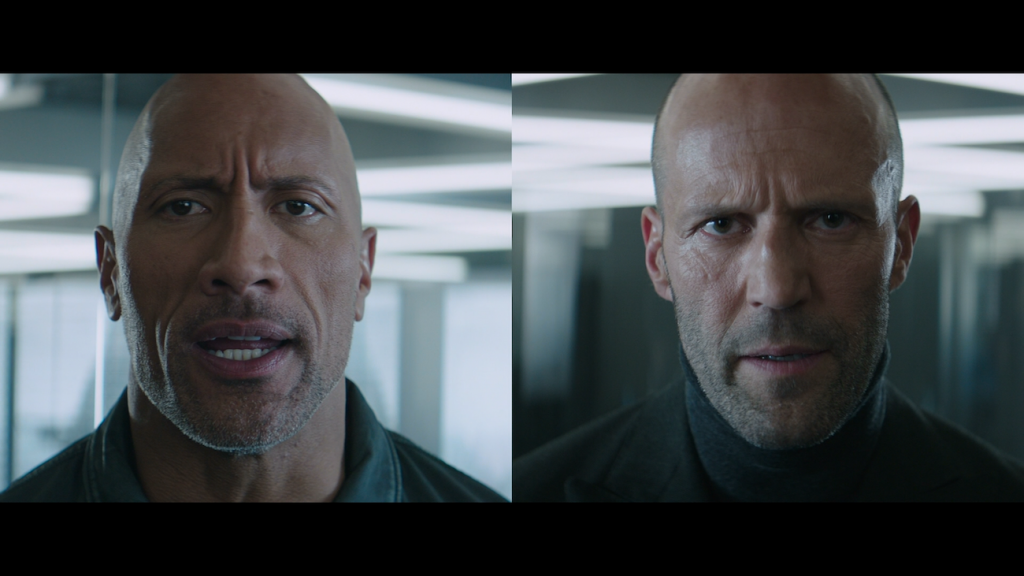 An MI6 team led by Hattie Shaw in London is infiltrating a group of terrorists calling themselves Eteon who are trying to steal a bioweapon. When Hattie is backed into a metaphorical corner, she injects herself with the virus to make sure it isn't taken. The virus is called CT17 or "Snowflake" and it is programmable due to its composition to attack anyone it becomes in contact with. The leader of the terrorist is a man named Brixton Lore and he has been enhanced with implants that can anticipate and calculate someone attacking him. He also has a suit that enhances his strength, makes him impervious to bullets, and nearly unstoppable. The CIA taps Luke Hobbs and Deckard Shaw to get to Hattie before Eteon does.
Plus, this mission comes with a clock: if she keeps it in her system for too long, it will infect her. Once this happens and it becomes airborne, there is no stopping it.
HOBBS & SHAW is directed by David Leitch. He has done a few action movies such as DEADPOOL 2, ATOMIC BLONDE, and JOHN WICK. He knows big action and with this, you get exactly that: extraordinary and broken laws of physics. Now, this is a spin-off from the "main" stories in the FAST & FURIOUS. So know this up front: there is no real connection to the other movies. Fans and the studio heads saw that the two characters have this love/hate relationship.
Cast
Dwayne Johnson – Luke Hobbs
Jason Statham – Deckard Shaw
Idris Elba – Brixton Lore
Vanessa Kirby – Hattie Shaw
Eiza González – Margarita
Cliff Curtis – Jonah Hobbs
Helen Mirren – Magdalene "Queenie" Shaw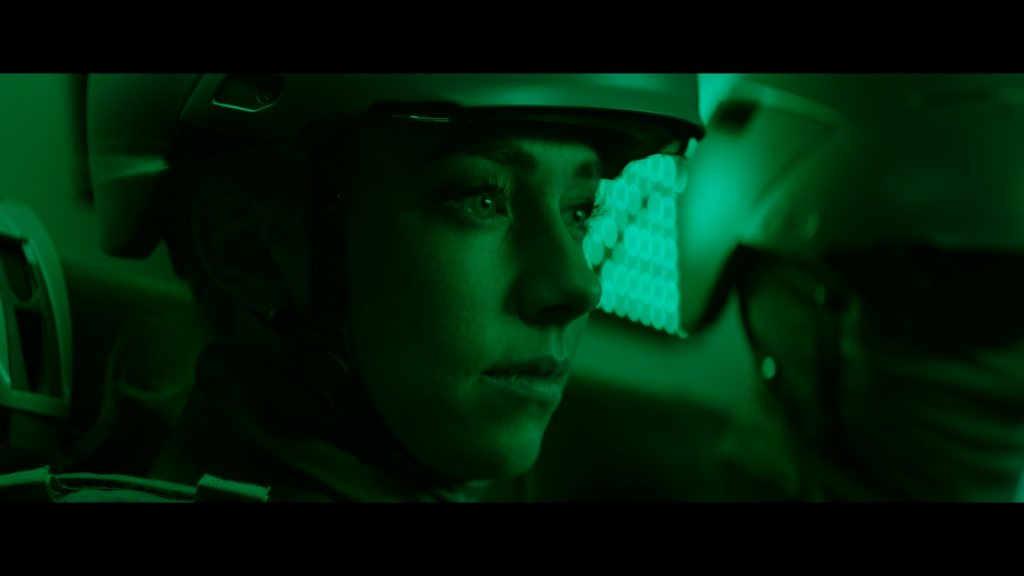 VIDEO QUALITY:
The video is a 2160p HEVC presentation. The images are stellar and have a clean look. There seems to a little bit of a color temperature change between the various destinations in the movie. The color temperature changes as the location changes. England has a cooler temperature and then Samoa, being a tropical island in the South Pacific. The Dolby Vision makes the colors bolder and the contrasting standout.
Like a lot of transfers nowadays, textures stand out. In the CIA building, the stone pillars have an unrefined texture to them and the grit looks excellent. Between Johnson and Statham, you can see the facial lines and their age. The same goes for Idris Elba. His facial scruff is highly detailed. The textures in clothing also give an idea of what kind of material the characters are wearing such as simple street clothes or tactical gear.
AUDIO QUALITY:
The audio is a Dolby Atmos mix that defaults to a Dolby TrueHD 7.1 mix. It's a hard-hitting soundtrack that works for this kind of movie. There is, of course, clear dialogue that is prioritized well with the effect and music. The shootouts have whizzing bullets and nice sound movement. There aren't a lot of car chases but the effects during them are incredible. One of the best scenes sound wise is where the trio is trying to outrun the enemies in their McLaren on the busy London streets. Then the modified motorcycles are dodging cars in a lot of near-miss moments all mixes together. Solid LFEs are constant but stand out where there are explosions and there is a quick scene with a jet fighter that sounds amazing.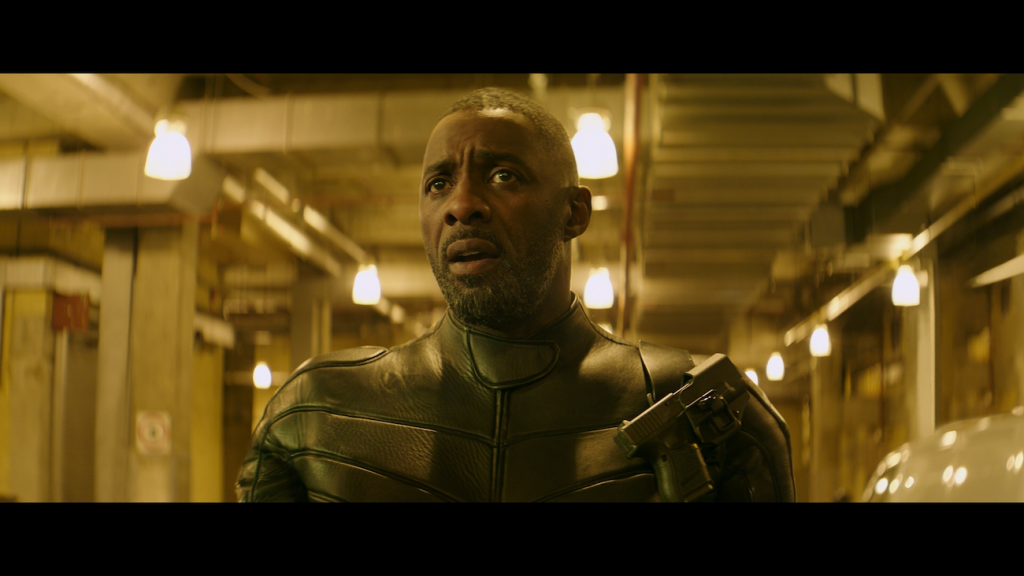 SUPPLEMENTS & PACKAGING
-Audio Commentary:
with Director David Leitch.
-Johnson & Statham: HOBBS & SHAW: This looks at the characters and how they have created this spinoff from the main films.
-Progress of a Fight Scene with Director David Leitch:
This shows how the scene is created from the ground up.
-Practical Action:
This looks at the action as almost a character in the movie.
-The Bad Guy:
This looks at Idris Elba's character and bringing this larger than life villain to the screen.
-The Sister:
Vanessa Kirby plays Hattie Shaw and this briefly looks at her character.
-Hobbs' Family Tree:
This looks at the new Hobbs family.
-The Matriarch:
This quickly looks at the lovely Helen Mirren as Queenie.
-New Friends:
Ryan Reynolds and Kevin Hart make some quick appearances in the movie.
-Elevator Action:
A quick 2 minutes on a sliver of the action.
-Stunt Show and Tell:
This has director David Leitch going over the action and stunts.
-Keeping it in the Family: A Conversation with Roman and Dwayne:
This is with the two wrestlers and their experience with the movie.
-Blind Fury:
This is with Dwayne and his mom on her reaction to the homage to her father.
-Dwayne and Hobbs:
Love at First Bite: This looks at the dog in his big-screen role.
-Alternate Opening
-Deleted/Extended/Alternate Scenes
Disc Details
2-Disc Set w/ 1 4k UHD and 1 Blu-ray
Digital Copy
Running Time
136 mins
Edition Ratings
PG-13
Region Coding
Region Free
4k UHD
Video Resolution
2160p HEVC H.265
HDR: Dolby Vision & HDR10+
Aspect ratio: 2.39:1
Audio Mixes
English Dolby Atmos
English Dolby TrueHD 7.1
French Dolby Digital Plus 7.1
Spanish Dolby Digital Plus 7.1
Subtitles
English SDH
French
Spanish
Blu-ray
Video Resolution
1080p AVC MPEG-4
Aspect ratio: 2.39:1
Audio Mixes
English Dolby Atmos
English Dolby TrueHD 7.1
French Dolby Digital Plus 7.1
Spanish Dolby Digital Plus 7.1
Subtitles
English SDH
French
Spanish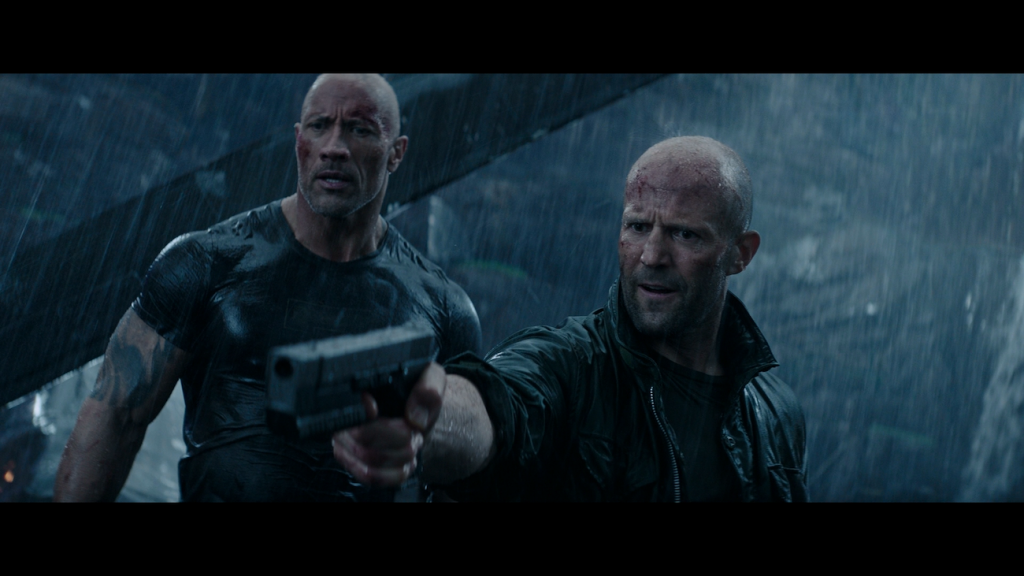 THE BOTTOM LINE:
HOBBS & SHAW is pretty much what fans of the franchise come to expect: big characters, big action, and big stunts. The video on the release is excellent on both the 4k UHD and the Blu-ray. The audio matches what's happening on the screen with a very full mix. There are a lot of extras and a lot is covered. I can say that you should check it out and maybe give your home theater some work.