The Farewell is a 2019 American comedy-drama film written and directed by Lulu Wang. It stars Awkwafina, Tzi Ma, Diana Lin, Zhao Shuzhen, Lu Hong, and Jiang Yongbo. The film follows a family who, upon learning their grandmother has only a short while left to live, decide not to tell her and schedule a family gathering before she dies.
Purchase THE FAREWELL on Blu-ray Today!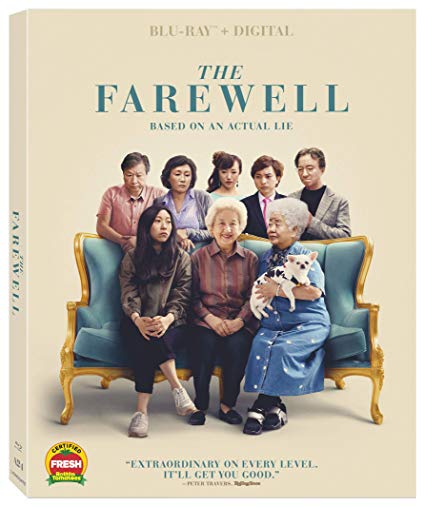 THE MOVIE:
A Chinese family discovers their grandmother has only a short while left to live and decide to keep her in the dark, scheduling a wedding to gather before she dies. Oh how this film has much more to it then simply the synopsis. A poignant piece of film making and a great job capturing the moment in which Billi finds out and deals with her Grandmother's news of cancer after the fact. Definitely worth a watch and an ending you might not see coming.
VIDEO QUALITY /AUDIO QUALITY:
THE FAREWELL comes to Blu-ray with an English and Mandarin 5.1 DTS HD Master 5.1 Audio track. While the film is pretty much half in English and Mandarin thus there is a lot of subtitle reading to be had. Dialogue sounds great and a stellar score make for a sonic treat.
SUPPLEMENTS:
Audio Commentary with Writer-Director Lulu Wang and Cinematographer Anna Franquesa-Solano
"Nothing but the Truth: Confessions of a Writer-Director" Featurette
"Going Home: A Conversation with Awkwafina" Featurette
Deleted Scenes
The film is based in part on director Wang's life experiences, which she first publicly discussed as part of her radio story What You Don't Know, which appeared as part of an episode of This American Life. The film was screened in the U.S. Dramatic Competition section at the 2019 Sundance Film Festival. – wikipedia