Dora and the Lost City of Gold is a 2019 American adventure comedy film that is a live-action adaptation of Nickelodeon's television series Dora the Explorer. Directed by James Bobin, it stars Isabela Moner as the title character, with Eugenio Derbez, Michael Peña, Eva Longoria, and Danny Trejo in supporting roles.
Purchase DORA AND THE LOST CITY OF GOLD on Blu-ray Today!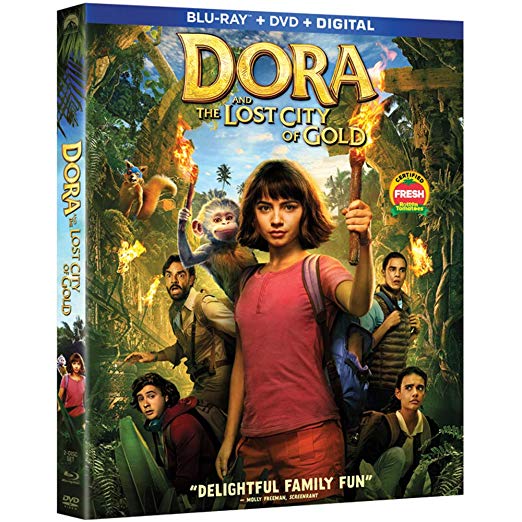 THE MOVIE:
Having spent most of her life exploring the jungle, nothing could prepare Dora (Isabela Moner) for her biggest challenge yet – High School. When her parents mysteriously disappear while searching for the Lost City of Gold, Dora must swing into action and lead a group of ill-equipped high schoolers on a wild quest to save them. Hold on for a high stakes mission as Dora and her friends navigate the jungle, outrun treasure hunters and solve ancient puzzles to unlock the mystery of the fabled city.
VIDEO QUALITY /AUDIO QUALITY:
The video quality is sharp, and has many scenes that allow it to shine with a vibrant transfer proving still that blu-ray 1080p has much to offer.
The audio is hard hitting when it needs to be and utilizes the fronts and rears well while the center channel puts in work. An immersive experience overall with the English dolby atmos track, accompanied Spanish 5.1 dolby digital and French 5.1 dolby digital as well.
SUPPLEMENTS:
Dora and the Lost City of Gold comes with the following blu-ray special features:
Bloopers
Deleted and Extended Scenes
Dora Hates Chores
Rave Music
Bathroom Break
Time For Bed
Bedtime Partners
Markers on the Map
Alejandro Thinks They Are Lost
They Are On the Right Path
Randy's in Love
Swiper's Speech
Abuelita's End Title Song and Dance
Can You Say Película?
Dora in Flower Vision
Dora's Jungle House
The film was theatrically released in the United States on August 9, 2019, by Paramount Pictures. It received generally positive reviews from critics, who praised Moner's performance and the self-aware humor, and has grossed over $115 million worldwide. – wikipedia