AMERICAN DREAMER is a 2018 American crime film directed by Derrick Borte and written by Derrick Borte and Daniel Forte. The film stars Jim Gaffigan, Robbie Jones, Isabel Arraiza, Tammy Blanchard, Alejandro Hernandez and Brian K. Landis. The film was released on September 20, 2019, by Saban Films.
Own AMERICAN DREAMER on Blu-ray and DVD on NOW!
THE MOVIE:
AMERICAN DREAMER is all about a man that is completely down on his luck and at the end of his rope. Cam (Jim Gaffigan)is a HAIL Driver (much like Uber) that is barely making enough money to support himself. He has had major family issues since getting fired from his job and losing his family. He owes back child support and only has less than $300 to his name.
Cam runs a side gig with this local drug runner named Mazz (Robbie Jones). Whenever Mazz texts Cam he has to pick him up as soon as possible. After a couple rides Cam realizes the financial life that Mazz has is the life he wishes to obtain again. So, that is when Cam comes up with the most insane plan he could ever devise.
Overall, this film was pretty fun. It reminded me of a weird mix between the films "COLLATERAL" and "FALLING DOWN". The acting was between the main cast was great but some of the supporting cast was pretty forgettable due to not enough of them being in the story. I wish there was a little more of a back story on Cam's life with his family but the story was easy to follow without knowing all the facts.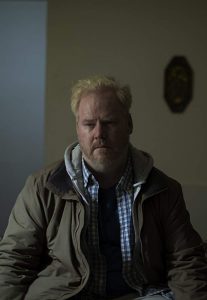 VIDEO/AUDIO QUALITY:
The video is a 1080p quality good enough for a film such as this. The overall tone of the film was pretty dark. The majority of the film took place at night, within dim light rooms, or inside a car. But the images were clear so the 1080p quality was spot on.
The audio for the film was clear and you could make out the dialogue with no issues. A lot of the speaking was pretty low tone so the pick up was well done. There was not any crazy themes through out the film. During a few moments you could hear some suspenseful audio tones takes place.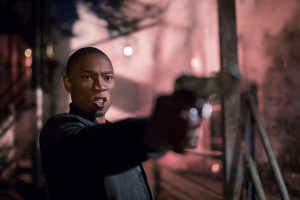 SUPPLEMENTS:
Bonus Features:
No Free Rides: The Making of AMERICAN DREAMER
Disc Details:
Blu-ray
Digital Copy
Running Time:
93 min.
Edition Ratings:
Rated R
Region Coding:
Region A (B,C untested)
Video Resolution:
Resolution: 1080p (2.39:1)
Audio Mixes:
English (Dolby Digital 5.1)
Subtitles:
English
Spanish