Blinded by the Light is a 2019 British comedy-drama film directed by Gurinder Chadha, inspired by the life of journalist Sarfraz Manzoor and his love of the works of Bruce Springsteen.
Purchase BLINDED BY THE LIGHT on Blu-ray Today!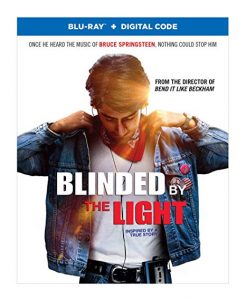 THE MOVIE:
The film tells the story of Javed (Viveik Kalra), a British teen of Pakistani descent growing up in the town of Luton, England, in 1987. Amidst the racial and economic turmoil of the times, he writes poetry as a means to escape the intolerance of his hometown and the inflexibility of his traditional father (Kulvinder Ghir). But when a classmate (Aaron Phagura) introduces him to the music of Bruce Springsteen, Javed sees parallels to his working-class life in the powerful lyrics. As Javed discovers a cathartic outlet for his own pent-up dreams, he also begins to find the courage to express himself in his own unique voice.
VIDEO QUALITY /AUDIO QUALITY:
BLINDED BY THE LIGHT comes to Blu-ray with a blaring and quintessential Dolby Atmos audio track. The film will rock your home theater set up or sound bar, and does a fine job on even simply tv speakers. Our set up was both a soundbar and also a 5.1 Dolby Atmos set up. The Boss would approve of this stellar sound track. Dialogue is also clear and for the blu-ray the picture quality was fine too. A few instances of film grain but they looked on par with the setting for the film. Recommended.
SUPPLEMENTS:
"Blinded By The Light" Blu-ray contains the following special features:
· Memoir to Movie
· The Most Crazy Thing
· Deleted Scenes
The film premiered at the 2019 Sundance Film Festival and was released by Entertainment One in the United Kingdom on 9 August 2019, and by Warner Bros. in the United States on 16 August 2019. – wikipedia