Great Day in the Morning is a Technicolor Superscope 1956 film. It was directed by Jacques Tourneur and stars Robert Stack and Virginia Mayo in a story set in 1860s Denver.
Purchase GREAT DAY IN THE MORNING on Blu-ray Today!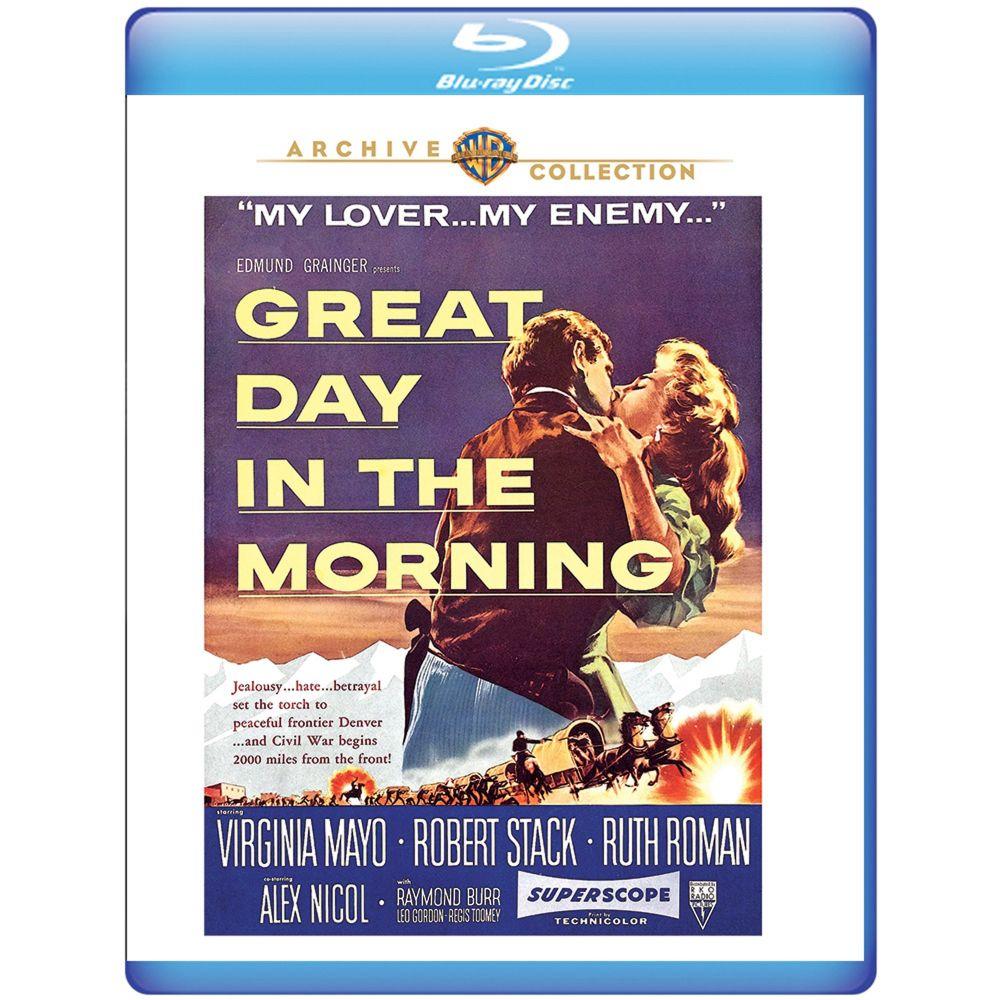 Check Out GREAT DAY IN THE MORNING on On Blu-ray Here Directly At Warner Archive
Video / Audio Quality Details:
GREAT DAY IN THE MORNING comes to blu-ray in 1080p HD from Warner Archive as part of the Warner Archive Collection on a made to order Blu-ray. The film has an audio track of DTS HD Master Audio and English subtitles SDH. Clocking in at 92 minutes this film from 1956 has received its best treatment yet. Sharp picture quality, and great audio quality round out this classic release.
Special Features and Technical Specs:
Jacques Tourneur MGM Shorts The Ship That Died
Strange Glory
The Face Behind the Mask
The Magic Alphabet

The young town of Denver, CO, right before the outbreak of the Civil War, is the setting for this Western drama from acclaimed director Jacques Tourneur (Out of the Past, Stars in My Crown). Recently rescued from an Indian ambush, laconic Southern loner Owen Pentecost (Robert Stack) rides into town and into the hearts of saloon girl Boston (Ruth Roman) and frontier entrepreneur Ann Merry (a pants-wearing and liberated Virginia Mayo).
With Boston's aid, Owen wins the deed to the local saloon in a card game against its menacing card-cheat owner, the aptly named Jumbo Means (Raymond Burr). With secession causing tensions to rise between Denver's Northerner majority and Southerner minority, Owen is pressured to support his Confederate brothers, but he remains firmly committed to his one true cause – gold! And there's two million dollars' worth of it that needs to be smuggled out before the start of the war!
In the year 1861, just prior to the outbreak of the Civil War in the Colorado Territory, Owen Pentecost (Robert Stack) is a man from North Carolina who comes west to Denver on a whim. He encounters Ann Merry Alaine (Virginia Mayo), who is going there to open a dress shop.