THE GOLDFINCH is a 2019 American drama film directed by John Crowley and written by Peter Straughan, adapted from the 2013 novel of the same name by Donna Tartt. The film stars Ansel Elgort as a young man whose life is transformed after his mother dies in a terrorist bomb attack at a museum, from which he takes a famous painting called The Goldfinch. Oakes Fegley, Aneurin Barnard, Finn Wolfhard, Sarah Paulson, Luke Wilson, Jeffrey Wright, and Nicole Kidman appear in supporting roles.
Own THE GOLDFINCH on Blu-ray and DVD on NOW!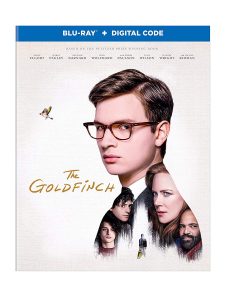 THE MOVIE:
THE GOLDFINCH is a story following Theodore Decker after his mother is killed in a museum by a bombing. Theodore is played by actor Oakes Fegley as a child and Ansel Elgort as an adult. The movie will constantly shift between the two different time periods in Theodore's life. After the bombing young Theodore stumbles across a painting in the rubble of the museum titled "THE GOLDFINCH". He proceeds to take the painting before leaving the site. From that moment he must carry the guilt of hiding a famous painting and his mother's death.
Theodore goes on to live with the Barbour family which grows a fantastic bond with the mother Samantha (Nicole Kidman). He also finds passion in antiques when he befriends a local antique shop owner James Hobart (Jeffrey Wright). Everything seems to be going well again in young Theodore's life until his absent father Larry (Luke Wilson), comes back into his life for a short period of time.
Overall, this film is pretty spectacular. The two actors (Fegley and Elgort) play the character of Theodore mighty well. The story is a lot deeper than a trouble child recovering from his mothers death and broken home life. The scenes with older Theodore is when the drama in the film really starts to pick up.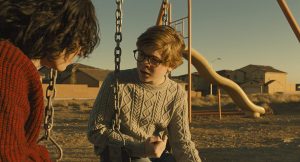 VIDEO/AUDIO QUALITY:
The video is a 1080p quality was fantastic for the film. There isn't a ton of action in the film but seeing this film in 4k would have been great to witness since the shots were very well done. The was a ton of attention payed to the every shot and angle and that work defiantly shows.
The audio for the film was also very great. It is a pretty dialogue heavy film but I had no issues being able to hear everything needed. Most of the film takes place in New York so you are able to hearing all the normal New York sounds taking place.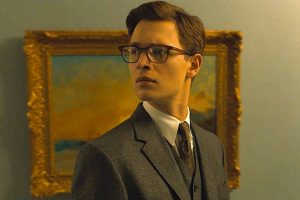 SUPPLEMENTS:
Bonus Features:
THE GOLDFINCH Unbounded
The Real Goldfinch
Deleted Scenes
Disc Details:
Blu-ray
Digital Copy
Running Time:
149 min.
Edition Ratings:
Rated R
Region Coding:
Region A (B,C untested)
Video Resolution:
Resolution: 1080p (1.85:1)
Audio Mixes:
English (Dolby Digital 5.1)
Spanish
French
Subtitles:
English
Spanish
French