IT: CHAPTER 2 is a 2019 American supernatural horror film and the sequel to the 2017 film It, both based on the 1986 novel by Stephen King. The film is directed by Andy Muschietti, returning from the first film, with a screenplay by Gary Dauberman. Set in 2016, 27 years after the first film, it stars Jessica Chastain, James McAvoy, Bill Hader, Isaiah Mustafa, Jay Ryan, James Ransone, Andy Bean, and Bill Skarsgård, who returns as Pennywise the Dancing Clown..
Own IT: CHAPTER 2 on 4K, Blu-ray and DVD on December 10th, 2019!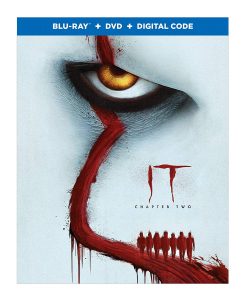 THE MOVIE:
IT: CHAPTER 2 bring the Losers' Club back together again, but not for the best reason. The infamous terrifying dancing clown named Pennywise (Bill Skarsgård). After 27 years since the first interaction with Pennywise the clown has once again started to kill and haunt the small town of Derry. The gang must keep their promise of coming back to defeat Pennywise once and for all.
Overall, the long awaited sequel to the first IT remake was successful in my opinion. The one thing that I thought the people behind the camera had to get right was the casting of who would play the adults in the Losers' Club. I think they managed to pull it off and everyone that was casted was spot on. Beverly (Jessica Chastain), Bill (James McAvoy), and Richie (Bill Hader) were the main standouts throughout the film for me. With those three being the characters that lead the pact. Bill Hader was my personal favorite.
The film was defiantly a long one to sit through but it was entertaining from the start. Pennywise was able to be even creepier than he was in the first film. Bill Skarsgård proved that he the best casting choice for the famous role of Pennywise the Clown yet again.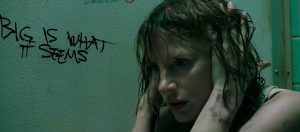 VIDEO/AUDIO QUALITY:
The video on blu-ray is a 1080p quality and the visuals were great. The overall tone of the film is fairly dark but there were no issues being able to see everything that was taking place. The film does also release in 4K, so I'll be interested to see how much difference there will be in that UHD format.
The audio for the film was well done. The dialogue heavy scenes were very easy to hear and the weird and low voice of Pennywise was also very easy to understand. No complaints in the audio department.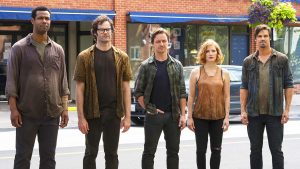 SUPPLEMENTS:
Bonus Features:
Documentaries: The Summers of IT:
Chapter One, You'll Float Too and Chapter Two, IT Ends
Behind-The-Scenes Featurettes:
This Meeting of the Losers' Club Has Officially Begun
Pennywise Lives Again!
Finding the Deadlights
Commentary by Director Andy Muschietti
Disc Details:
Blu-ray
DVD
Digital Copy
Running Time:
169 min.
Edition Ratings:
Rated R
Region Coding:
Region A (B,C untested)
Video Resolution:
Resolution: 1080p (2.29:1)
Audio Mixes:
English (Dolby Digital 5.1)
Spanish
French
Subtitles:
English
Spanish
French