The eighth and final season of the fantasy drama television series Game of Thrones, produced by HBO, premiered on April 14, 2019, and concluded on May 19, 2019. Unlike the first six seasons, which consisted of ten episodes each, and the seventh season, which consisted of seven episodes, the eighth season consists of only six episodes.
Purchase GAME OF THRONES S8 on Ultra HD Blu-ray Today!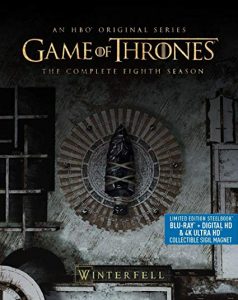 THE MOVIE:
The final season depicts the culmination of the series' two primary conflicts: the Great War against the Army of the Dead, and the Last War for control of the Iron Throne. The first half of the season involves many of the main characters converging at Winterfell with their armies in an effort to repel the Night King and his army of White Walkers and wights. The second half of the season resumes the war for the throne as Daenerys Targaryen assaults King's Landing in an attempt to unseat Cersei Lannister as the ruler of the Seven Kingdoms.
VIDEO QUALITY /AUDIO QUALITY:
Game of Thrones Season 8 comes to us with HDR10 and Dolby Vision. Given its dark and smokey settings this season is ripe for UHD to at least provide it with the best it can do considering the complaints it received on air back at broadcast due to it being dark and banded etc. UHD does capture it quite well and let's us see the original intended vision. If you are a fan of Game of Thrones and are reading this now then you likely are committed from the other seasons and UHD is the best way to go as opposed to streaming at sub par bitrates. The Dolby Atmos tracks are a huge step up in the audio department but be sure to select that prior to viewing.
SUPPLEMENTS:
Game of Thrones: The Last Watch: A documentary featured on DVD in two parts by filmmaker Jeanie Finlay chronicling the making of the final season.
When Winter Falls: Exclusive 30-minute featurette with showrunners David Benioff and D.B. Weiss, along with major stars and behind-the-scenes players, breaking down all that went into the colossal filming of the "Battle of Winterfell" in Season 8, Episode 3.
Duty is the Death of Love: A compelling look at how the team behind Game of Thrones and its major stars, including Kit Harington, Peter Dinklage and Emilia Clarke, brought the show to its conclusion in the series finale, "The Iron Throne."
Audio Commentaries: 10 Audio Commentaries with cast and crew, including the show's creators, Benioff and Weiss, on the final season.
Deleted and Extended Scenes: 5 never-before-seen deleted or extended scenes from season 8.
Histories and Lore: New animated pieces giving the history and background of notable season 8 locations and storylines.
The season was filmed from October 2017 to July 2018 and largely consists of original content not found in George R. R. Martin's A Song of Ice and Fire series, while also incorporating material that Martin has revealed to showrunners about the upcoming novels in the series, The Winds of Winter and A Dream of Spring. The season was adapted for television by David Benioff and D. B. Weiss. – wikipedia